Collection Online
Browse By
Browse By Museum
Browse By Major Acquisition
Adriano Costa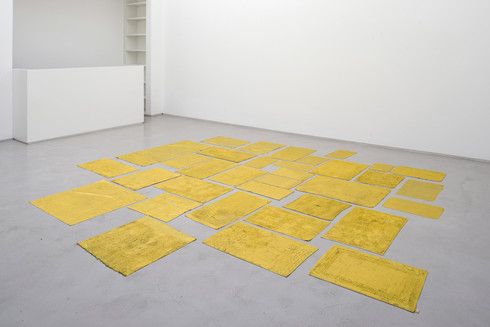 Adriano Costa reinterprets the approach and aesthetic of Neo-Concretism—specifically as manifest in the work of Brazilian artists such as Hélio Oiticica—in this array of gold-painted household towels. Blending random selection with geometrical composition, the artist disregards the objects' original function to create a flexible "pre-sculpture." The work's color and title (Ouro Velho translates into English as "old gold") evoke the monetary incentive for colonization, as well as the new materialism that has accompanied recent rapid economic growth in Brazil.
Free Guggenheim App
Download the app to explore the Guggenheim collection, plan your visit, watch videos, and more.
Send a personalized greeting today!
Guggenheim Books
Visit the Online Store to purchase exhibition catalogues, e-books, and more.