Collection Online
Browse By
Browse By Museum
Browse By Major Acquisition
Mariana Castillo Deball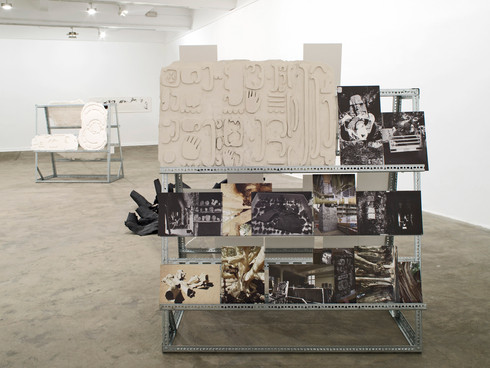 In this work, plaster casts inspired by monolithic Mayan stone sculptures called stelae are displayed on storage racks, and point to the artist's interest in what she refers to as "uncomfortable objects." Mariana Castillo Deball's casts were inspired by papier-mâché molds made by nineteenth-century archaeologist Alfred Maudslay at the Mayan site of Palenque in southern Mexico. Many of the historic original sculptures were looted or have vanished, making Maudslay's copies (which are now in the collection of the British Museum in London) the only evidence of their existence. Castillo Deball's casts are thus twice removed from the original artifacts, raising questions about the value of the copy and the transmission of historical truth.
Free Guggenheim App
Download the app to explore the Guggenheim collection, plan your visit, watch videos, and more.
Send a personalized greeting today!
Guggenheim Books
Visit the Online Store to purchase exhibition catalogues, e-books, and more.