Collection Online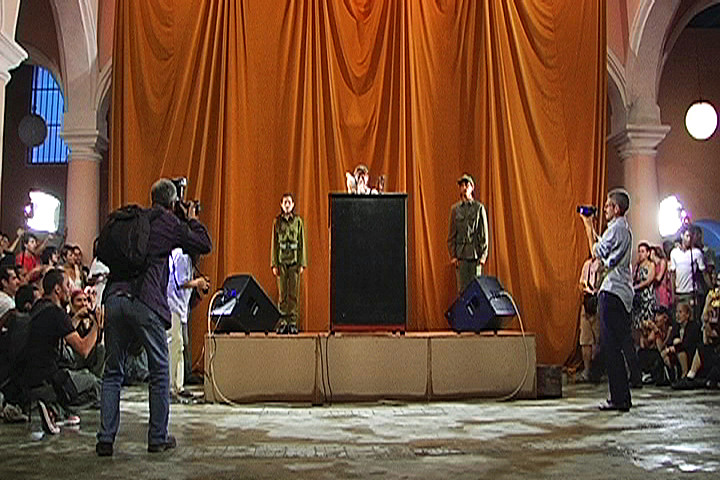 Tania Bruguera
Tatlin's Whisper #6 (Havana Version)
Artist
Tania Bruguera b. 1968, Havana
Title
Tatlin's Whisper #6 (Havana Version)
Date
Medium
Installation with stage, podium, loudspeaker, video camera, microphones, and color video, with sound, 40 min., 32 sec.
Dimensions
overall dimensions variable
Edition
edition 1/1
Credit Line
Solomon R. Guggenheim Museum, New York Guggenheim UBS MAP Purchase Fund, 2014
Accession
2014.11
Copyright
Tania Bruguera
Artwork Type
In a performance at the 2009 Havana Biennial, Tania Bruguera provided a temporary platform for the free speech normally denied in Cuba. Members of the exhibition's audience were invited to take the stage and speak uncensored for one minute, after which time they were escorted away by two actors in military uniforms. A white dove was placed on each speaker's shoulder in allusion to the one that landed on Fidel Castro during his first speech in Havana after the triumph of the 1959 revolution. Part of a series of works that seek to activate viewers' participation by recontextualizing powerful images from significant events, Tatlin's Whisper #6 (Havana Version) confronts the widespread apathy that has followed in the wake of several failed social revolutions.