Collection Online
Browse By
Browse By Museum
Browse By Major Acquisition
Armando Andrade Tudela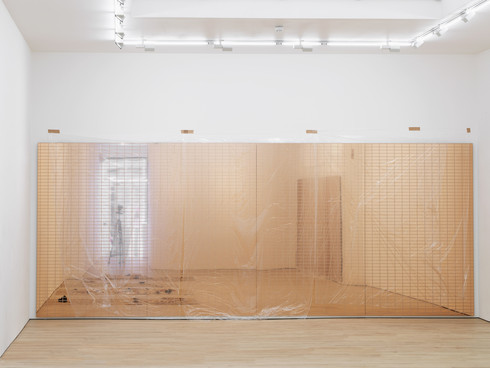 The GCC of this sculpture's subtitle is a reference to "Gold Coast Customs," a 1929 verse by British poet Edith Sitwell that traces the "savage" underpinnings of so-called civilized society, a complex cultural relationship echoed in the work itself. In a reference to modern and contemporary architecture, Armando Andrade Tudela has sandblasted a geometric grid into the surface of a copper-colored mirror, which is then veiled by a wrinkled sheet of plastic similar to those used in architectural construction. The blurred reflections that result allude to the distorted and illusory aspects of modernity and "progress."
Free Guggenheim App
Download the app to explore the Guggenheim collection, plan your visit, watch videos, and more.
Send a personalized greeting today!
Guggenheim Books
Visit the Online Store to purchase exhibition catalogues, e-books, and more.