Collection Online
Browse By
Browse By Museum
Browse By Major Acquisition
Jennifer Allora and Guillermo Calzadilla
Jennifer Allora, b. 1974, Philadelphia; Guillermo Calzadilla, b. 1971, Havana
Biography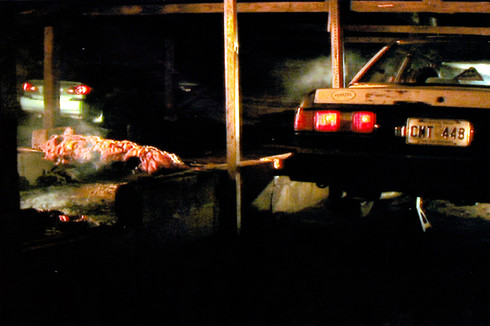 The scenario of Sweat Glands, Sweat Lands is centered on the image of a skewered pig attached to the back wheel of a car, the animal's roasting carcass rotating ever more rapidly as the driver continues to accelerate. Along with the music, by Puerto Rican band Calle 13, the video's imagery of metal and flesh seems to offer a glimpse into a dystopian world.
Free Guggenheim App
Download the app to explore the Guggenheim collection, plan your visit, watch videos, and more.
Send a personalized greeting today!
Guggenheim Books
Visit the Online Store to purchase exhibition catalogues, e-books, and more.