Collection Online
Browse By
Browse By Museum
Browse By Major Acquisition
Vincent Leong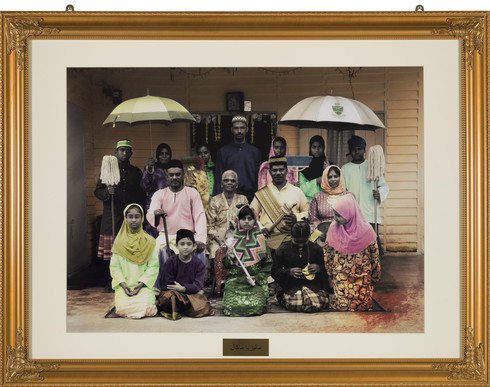 Vincent Leong's pair of portrait photographs Keeping Up with the Abdullahs (2012) assembles family members from two minority ethnicities in Malaysia, Chinese and Indian. Featuring men dressed in baju melayu and songkok brimless caps, and women in baju kurong and tudung head scarves, garments that commonly signal Islamic adherence in Malaysia, the images address the subject of assimilation in a multiethnic country. British colonial developments in peninsular Malaysia (then known as Malaya) from the 18th to the 20th centuries accelerated emigration from South and East Asia into the region. Yet immigrant communities were treated differently by the colonial administration, a distinction maintained even after Malaysian independence in 1957. This preservation of difference has resulted in both cultural diversity and intercultural conflict. On May 13, 1969, after the Chinese-led opposition won additional seats in the previously Malay-dominated parliament, Malaysia erupted in a race riot that claimed hundreds of lives. The soul-searching that followed culminated in the watershed 1971 National Cultural Congress, which stated that national cultural policy must henceforth be oriented toward indigenous Malay culture.
Since the 1930s, both identifiably Malayan elements and the fusion of Western forms with Southeast Asian themes have been increasingly prevalent in local art. Leong's practice recalls that of renowned Malaysian artist Redza Piyadasa, playfully underscoring the continuing question of what Malaysian identity constitutes today. Parodying early 19th-century photographs of the Malay sultanate that depicted their subjects in formal ensemble, Leong's tongue-in-cheek work replaces the typical regalia of the earlier royal depictions with mops, rakes, and kitchen utensils, objects referencing domestic experience and politics. Despite its humorous approach, Keeping Up with the Abdullahs nevertheless contains political and cultural critique, as small plaques on the photographs' frames announce, in Chinese and Tamil rendered in the phonetic Arabic Jawi script, the figures of the otherwise separate ethnic groups shown as conclusively Malaysian. Leong's practice often concentrates on the production of nation and culture; his contemporary voice is rooted in local historical and material conditions.
June Yap
Free Guggenheim App
Download the app to explore the Guggenheim collection, plan your visit, watch videos, and more.
Send a personalized greeting today!
Guggenheim Books
Visit the Online Store to purchase exhibition catalogues, e-books, and more.