Collection Online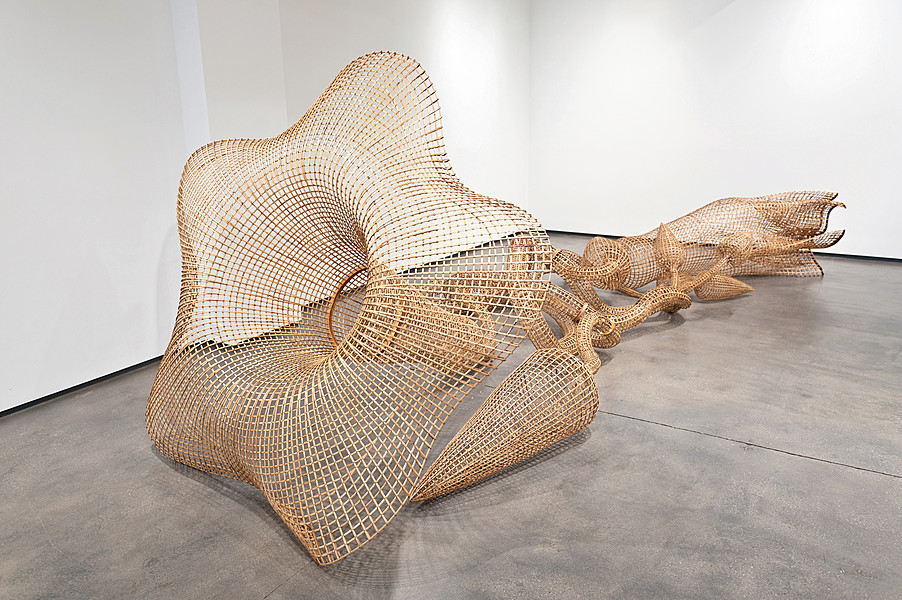 Sopheap Pich
Morning Glory
Artist
Sopheap Pich b. 1971, Battambang, Cambodia
Title
Morning Glory
Date
Medium
Rattan, bamboo, wire, plywood, and steel
Dimensions
74 inches x 103 inches x 17 feet 6 inches (188 x 261.6 x 533.4 cm)
Credit Line
Solomon R. Guggenheim Museum, New York Guggenheim UBS MAP Purchase Fund, 2013
Accession
2013.3
Copyright
Sopheap Pich. Installation view: Morning Glory, Tyler Rollins Fine Art, New York, November 3–December 23, 2011.
Artwork Type
Informed commentaries on recent art practice in Cambodia invariably make reference to the period of the Khmer Rouge or Communist Party of Kampuchea, which has impacted the country ever since its 1975–79 rule. Sopheap Pich was born in the agricultural town of Battambang in Cambodia, and left the country with his family as a refugee at the end of the Khmer Rouge's reign, subsequently settling in the United States. However, memories of his childhood experiences in Cambodia and a desire to reconnect with its life drew the artist back to the country in 2002. On returning he was faced with the challenge of relating the contemporary artistic methodologies with which he had become acquainted to local cultural conditions, and to the demands of post–Khmer Rouge political and economic recovery. Through the use of rattan and bamboo, materials familiar from Khmer rural life and craft (they are used to make functional everyday objects such as baskets and fish traps), Pich's oeuvre bridges the aesthetic and material gulfs between the two. Repurposing these basic components of Cambodian life, he instills the countries' shared experience with renewed life.
Pich's early sculptures assume biomorphic forms that represent an essential symbiosis between history and culture, past and present. Such synthesis recurs throughout the artist's work; in his sculpture The Duel (2008), for example, two organ-like forms that resemble the cavities of the lungs or the chambers of the heart appear intrinsically linked, even as the title of the work suggests a conflicted relationship. The artist characterizes his forms as "real," alluding to their expression of tangible existence and experience, that relate to his sense of an inexorable kinship with his country. In Morning Glory (2011), the ubiquitous plant is rendered at monumental scale. Considered a weed by gardeners, it is a plant that, like Pich's bamboo and rattan, is generally regarded as unexceptional. However, in Pich's sculpture, its status is more ambivalent, at once attractive and a possible nuisance, banal but also valued by Cambodians during the Khmer Rouge regime as a source of nourishment. Transforming the rigid stalks into a more malleable substance, Pich treats the material like a line, making a drawing in space. In its metamorphosis, this spare structure refutes its lightweight appearance with a strength that infuses Cambodian life and culture.
June Yap