Collection Online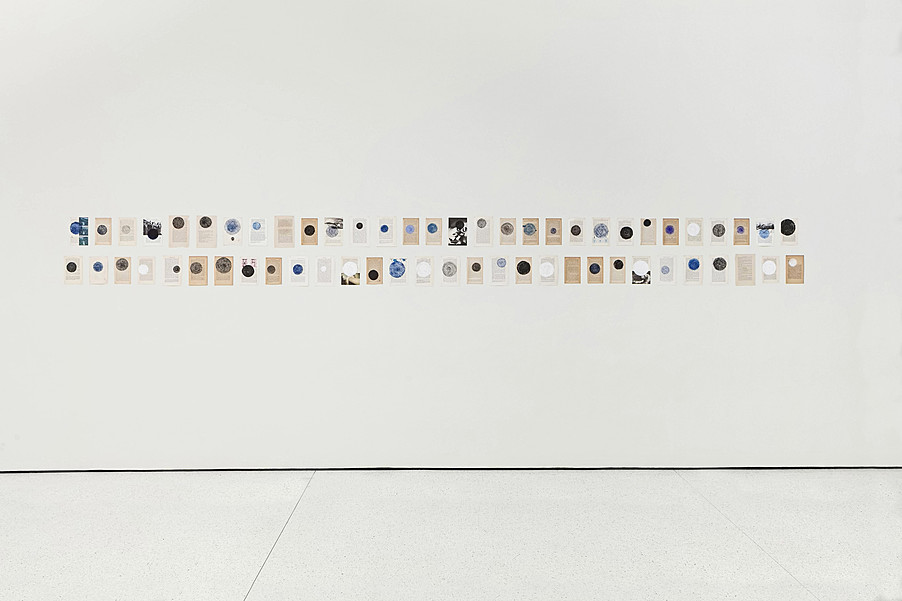 Simryn Gill
Full Moon
Artist
Simryn Gill b. 1959, Singapore
Title
Full Moon
Date
Medium
Watercolor, ink, and mixed media on 60 book pages
Dimensions
approximately 7 x 5 inches (17.8 x 12.7 cm) each, overall dimensions variable
Credit Line
Solomon R. Guggenheim Museum, New York Guggenheim UBS MAP Purchase Fund, 2013
Accession
2013.1
Copyright
Simryn Gill. Installation view: Lasting Images, Solomon R. Guggenheim Museum, New York, October 14, 2013–January 12, 2014. Photo: David Heald
Artwork Type
The use of gathering and reordering as ways to generate new associations is a hallmark of Simryn Gill's practice; Naughts (2010) features an array of found objects united by their circular shape, while Garland (1993–2008; a miniature version was completed in 2012) is comprised of pieces of glass, plastic, and ceramic, shells, stones, and wooden items. In these installations, the individual components and their collective significance are accentuated, opening up otherwise ordinary objects to manifold interpretation.
Likewise, in Full Moon (2012), Gill disassembles and resequences books from her grandfather's collection. The contents of Full Moon's liberated pages range from technical explanations, economic analyses, and sociopolitical commentaries to the fictional, transcendental, and spiritual. Their origins include such seminal tomes as The Affluent Society by John Kenneth Galbraith, Primitive Culture: Researches into the Development of Mythology, Philosophy, Religion, Language, Art, and Custom by Edward Burnett Tylor, The Impact of Science on Society by Bertrand Russell, and The Crowded World: The Problem and Eugenics in Evolutionary Perspective by Julian Huxley. Foregrounding these texts, Gill inscribes their shuffled leaves with circular designs in ink, gouache, grass pigment, laundry detergent, and correction fluid. These methodical but still lively markings effectively recalibrate the diversity of the pages' theoretical content, bringing them into unexpected congruence or commensuration. Unmoored from their bindings, they attain a literal and metaphorical lightness characteristic of Gill's oeuvre, an understated humor that here surfaces in a resistance to the gravity of the texts' scholarship and cultural importance. A similar critical antagonism is established in 9 Volumes from The Collected Works of Mahatma Gandhi (2008). Remodeling each tome into a ball with which viewers may interact, Gill pairs the reverence ascribed by the volume's provenance with the simple satisfaction of play that is afforded by their new tactile form.
Pinned to the wall in a row, the pages of Full Moon appear to frame each other or coalesce into groupings as one moves from work to work, or when viewed at a distance. As their details swim in and out of focus, the certainty of the truths they embody seems also to waver. Attempting to produce this most basic of shapes upon these textual surfaces, Gill's exercises in understanding present aspirations to perfection that, like the fullness of the moon, are difficult to perceive with the naked eye.
June Yap