Collection Online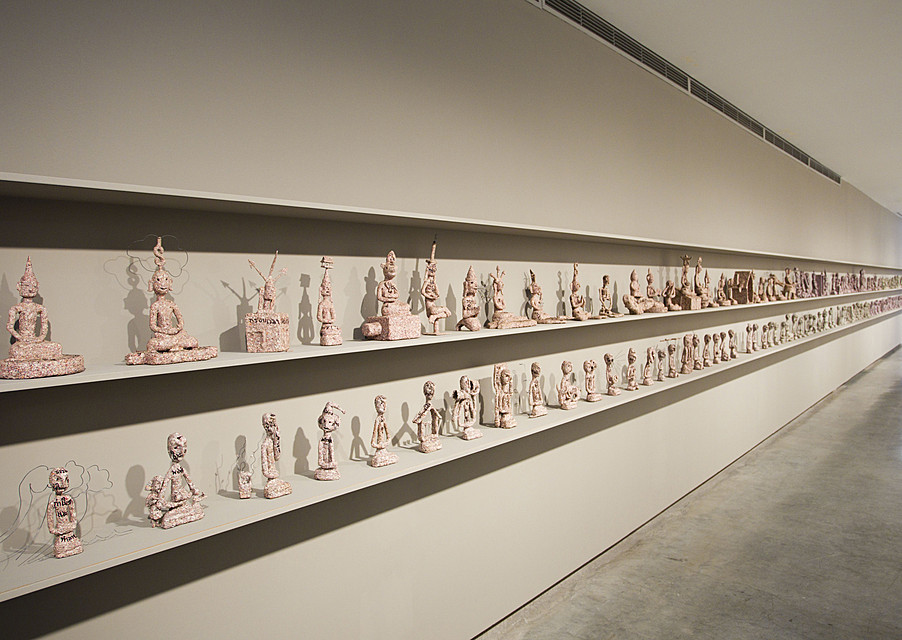 Kamin Lertchaiprasert
Sitting (Money)
Artist
Kamin Lertchaiprasert b. 1964, Lop Buri, Thailand
Title
Sitting (Money)
Date
Medium
Paper mâché
Dimensions
366 parts, 11 13/16 x 7 7/8 x 3 15/16 inches (30 x 20 x 10 cm) each; overall dimensions variable
Credit Line
Solomon R. Guggenheim Museum, New York Guggenheim UBS MAP Purchase Fund, 2013
Accession
2013.2
Copyright
Kamin Lertchaiprasert. Pictured: detail. Installation view: 18th Biennale of Sydney, Museum of Contemporary Art Australia, June 27–September 16, 2012. Photo: Ben Symons
Artwork Type
Sitting (Money) (2004–06) consists of 366 papier mâché figures seated in meditative style, their number representing the days in a year. Kamin Lertchaiprasert's works are not, however, about the passage of time or the assembling of multiple parts. Rather, they are situated somewhere between these two things, and reflect on the immediate necessity of perseverance and practice in art and life. Lertchaiprasert's work is inflected by his interest in Buddhist philosophy and meditation, particularly those associated with Theravada Buddhism, Thailand's state religion and one of the "Three Pillars of Society" defined by King Rama VI (1881–1925). The cultivation of self-awareness that meditation entails is a recurring theme in the artist's oeuvre, beginning with his earlier series Problem-Wisdom (1993–95), which also consists of papier mâché sculptures and confronts the suffering brought on by a lack of empathy.
The folk-style figures in Sitting (Money) reference the idea of craft, thus relating the act of contemplation to the experiential and historical nature of production symbolized in the work. While Problem-Wisdom, is made of daily newspapers, Sitting (Money) is pieced together from decommissioned Bank of Thailand banknotes previously slated for recycling. These unique figures, while busy with everyday activities, share a meditative posture that references Buddha and his teachings. They embody a tension between Buddhist ideals and the realities of ordinary experience, appearing as if materially, spiritually, and physically tested. The part played by currency in this aesthetic transformation furthers the work's contemporary existential challenge by conflating spiritual well-being with material wealth.
Yet making the familiar figure of the Buddha from cash—the lifeblood of a nation's economy—is not a simple indictment of contemporary materialism. Rather, it is for the artist a meditative response to the realities of his environment. In Lertchaiprasert's practice, spirituality is not to be confused with transcendentalism, or with its link to Asian culture. For the artist, the character of the work is not only linked to Thai experience and religious belief, but also suggests universal human truths and experiences. It is in the artist's attentiveness to material and spiritual change, as well as in his understanding of the human condition's impermanence, that the work exceeds the limits of religion and nationhood.
June Yap