Collection Online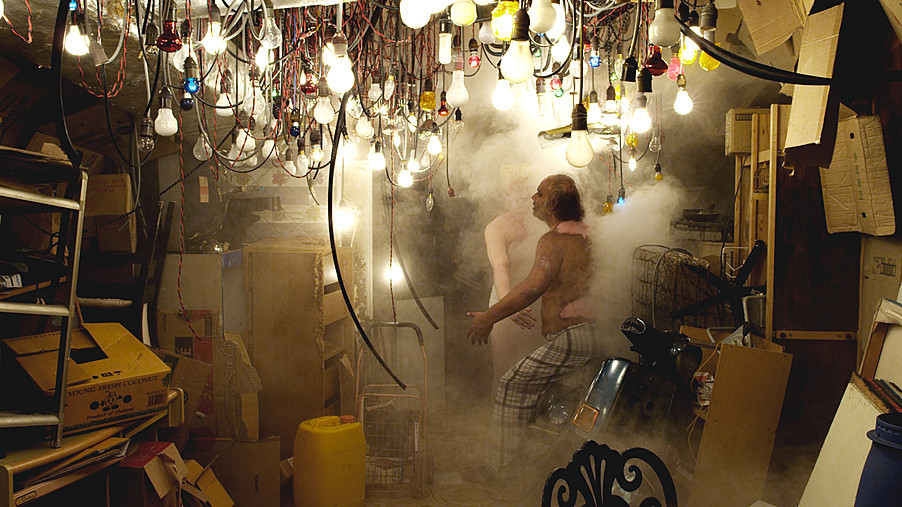 Ho Tzu Nyen
The Cloud of Unknowing
Artist
Ho Tzu Nyen b. 1976, Singapore
Title
The Cloud of Unknowing
Date
Medium
Four-channel video installation, color, with sound, 17 min., with theater spotlights
Edition
edition 1/1
Credit Line
Solomon R. Guggenheim Museum, New York Guggenheim UBS MAP Purchase Fund, 2012
Accession
2012.141
Copyright
Ho Tzu Nyen
Artwork Type
Ho Tzu Nyen's multichannel video installation The Cloud of Unknowing (2011) explores the expansive subject of the representation of the elusive and amorphous cloud. Inspired by philosopher Hubert Damisch's thesis on the form's aesthetics and symbolism, A Theory of /Cloud/: Toward a History of Painting, first published in French in 1972, Ho's work incorporates a set of eight compartmentalized vignettes, each centered on a character that stands for the cloud's representation in historically significant Western European artworks by artists including Caravaggio, Francisco de Zurbarán, Antonio da Correggio, Giovanni Lorenzo Bernini, Andrea Mantegna, and René Magritte, as well as the Eastern landscapes of Mi Fu and Wen Zhengming. This incorporation and blending of cultural, historical, and philosophical references, both Eastern and Western, is prevalent in Ho's practice, which references painting (EARTH, 2009), pop music (The Bohemian Rhapsody Project, 2006), literature (The King Lear Project, 2008) and philosophy (Zarathustra: A Film for Everyone and No One, 2009).
Ho's practice speaks to the predicament of representing and interpreting contemporary art from South and Southeast Asia, and specifically from Singapore. In 1963, Singapore gained independence as part of the nation of Malaysia during the immediate postcolonial and postwar period; however in 1965, due to mutual differences, Singapore separated to become a country of its own. For this reason, and given the physical and cultural migration from South and East Asia into Malaya (the pre-independent region of Singapore and Malaysia), the sources of Singapore's historical and art-historical narratives are entwined with that of its neighbors, and are often represented in terms of cultural and traditional assimilation and transformation. Ho's art confronts foundational myths and historical geopolitics, and deconstructs the idea of modernization via Western influence or beneficence, by presenting viewers with a paradox. In it, Eastern and Western forms appear at once disjointed and seamless, coexisting in a fluid aesthetic interpretation that allows for the complexities of influence and adaptation to drift through each other, akin to the eponymous cloud.
Contrasted with the substantial figures of the work's eight characters, each of which struggles against the burden of physical and material existence and the trappings of obsession and clutter, decay and disrepair, are their unexpected confrontations with the ethereal cloud. Ho's installation is titled after a mystical treatise from the 14th century, written in the tradition of the Christian Neoplatonists, whose authorship is little-known, and which was intended as a primer for aspiring monastics on the art of contemplative prayer. In Ho's work, the metaphorical limits of human knowledge that the medieval spiritual text anticipates as inevitable in the search for the divine are represented in the form of terrifying, surreal, or sometimes illuminative encounters with a corporeal "cloud of unknowing." But these encounters with doubt and uncertainty, as guided by the gnostic text, are transitory, and the spiritual traveler is exhorted to keep the faith and trust that understanding will arrive. In Ho's work, the binary division of Eastern and Western thought, belief, history, and representation, would appear to have collapsed, suggesting the possibility of new insight.
June Yap