Collection Online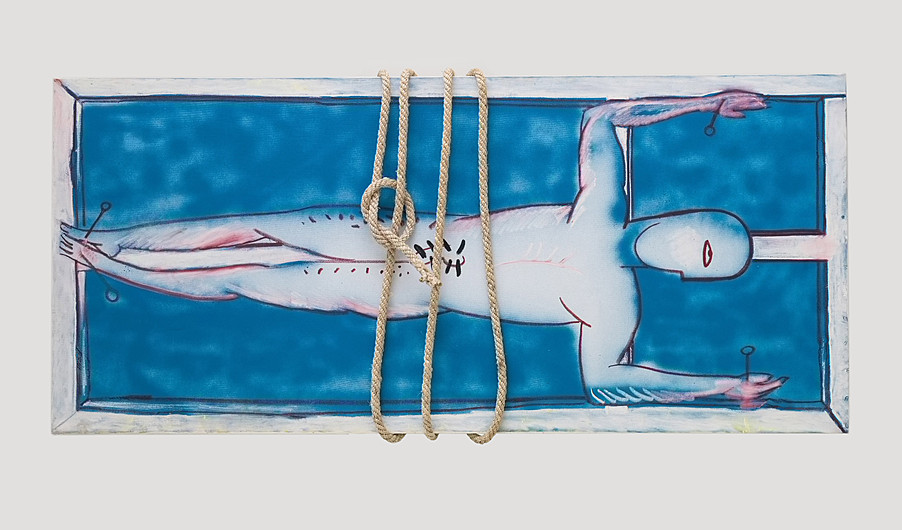 Truong Tan
What Do We Want
Artist
Truong Tan b. 1963, Hanoi, Vietnam
Title
What Do We Want
Date
Medium
Oil on canvas with rope
Dimensions
37 1/4 x 78 3/4 x 10 inches (94.6 x 200 x 25.4 cm)
Credit Line
Solomon R. Guggenheim Museum, New York Guggenheim UBS MAP Purchase Fund, 2012
Accession
2012.162
Copyright
Truong Tan
Artwork Type
It is necessary to understand Truong Tan's reputation for avant-gardism in relation to a development of mainstream social and aesthetic practices in Vietnam that was influenced by 19th-century French colonization, the early 20th-century establishment of the Ecole des Beaux-Arts de L'Indochine, and the negotiations that the Vietnamese people undertook in order to regain their independence. Modern Vietnamese painting, influenced by French aesthetics, favored the portrayal of lush local landscapes, and a lyrical idyll represented in the form of the feminine figure, in a visual style termed réalité poétique (poetic reality). Post-independence aesthetics would increasingly challenge these passive and idealized visions, and intensify as the country underwent the Đổi Mới economic reforms of the mid-1980s. A 1989 graduate of Hanoi Fine Arts University, Truong Tan became part of a wave of aesthetic exploration that challenged assumptions about art's form and meaning, his practice causing controversy with its confrontation of taboo sexual themes.
An openly homosexual artist living in an increasingly liberalized but still conservative environment, Truong Tan developed a practice that was designated as unorthodox, a framing that served to both publicize and censure his work. The categorization has also tended to obscure his work's idealistic and poetic nuances. In What Do We Want (1993–94), a male figure, his face shown in the profile view that recurs throughout the artist's oeuvre, lies vulnerable and naked across the canvas, apparently crucified. The male figure's idealization may be seen in relation to the idealized feminine figure celebrated in the earlier French-influenced Vietnamese aesthetic. Truong Tan's idealization however is double-edged, as the figure, his face averted in a seemingly nonconfrontational stance, calls attention to a hidden side. This ironic pairing of diplomatic concession with a critique of rigid conservatism was apparent in "Cultural Collision," an exhibition that Truong Tan participated in along with American artist Bradford Edwards at Red River Gallery in Hanoi in 1995. On this occasion, twelve of Truong Tan's paintings were censored. In response the artist replaced these censured works with rice-paper paintings inscribed with the deferential response "Excuse Me" in Vietnamese, English, and French.
Characterized by simplicity of material, line, and color, and by a synthetic composition in which form is flattened and contour simplified, Truong Tan's work has a powerful rawness that underscores his struggle to uncover the basic truths of power, society, and life. A rope, symbolizing social and aesthetic stricture, is wrapped around the middle of What Do We Want. It acts as a constraining device, but also is a nod to modesty. As in his 1994 performance in which the artist, his body wrapped in a sheet and bound by rope, signals a refusal of social, cultural, and sexual limits by stepping out of physical ones, the bound painting is poised between restraint and liberation. What Do We Want is thus less a confrontation than it is an appeal for a more measured reflection on the imposition of constraints. In another performance, Buffalo, staged in the village of Mộc Châu in 1996, the artist shoulders a 40-kilogram plough and attempts to plough a field. The weight of the plough finally defeats him and he collapses, yet the artist's courageous effort and unrelenting desire to transform an indifferent cultural landscape has not gone unnoticed, its simple yet effective gesture leaving an indelible mark.
June Yap