Collection Online
Browse By
Browse By Museum
Browse By Major Acquisition
Aung Myint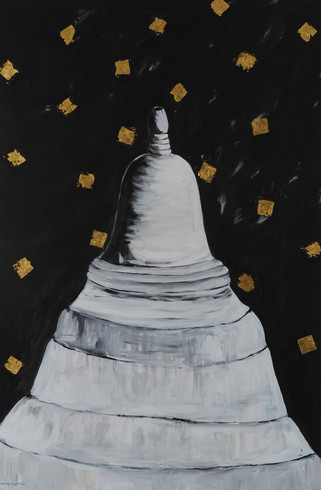 Multidisciplinary artist Aung Myint is one of the pioneers of modern art in Myanmar (previously known as Burma). The self-taught artist has embraced diverse aesthetic practices, from both nonrepresentational and figurative painting to performance art and installation. In his series Mother and Child (2002– ), Aung Myint images the concepts of nature and nurture in a few simple but effective brushstrokes. However, it is the works' distinct conceptual underpinning that distinguishes the artist's practice from more romanticized visions of Burmese culture and history. From these multiple images of the maternal figure clasping a child—rendered in an unmistakable yet still ambiguous line—a variety of meanings emerge. The series may be read as combining the positive and negative attributes of patriotism, for example, reflecting on the protection it can offer while criticizing its tendency to constrain and limit. Marking a lively trail that twists and turns across the artist's preferred shan (mulberry) paper, these shapes resemble the traditional Burmese alphabet but are not quite the language itself, thus suggesting both articulation and reticence.
Aung Myint's painting White Stupa Doesn't Need Gold (2010) is similarly agile. In much of Southeast Asia, few traces of the region's ancient kingdoms remain. But in Myanmar, pagodas built by the early civilizations of the kingdom of Pagan (849–1297), and in periods of prosperity that came after it, stand as prominent and powerful monuments to a cultural and aesthetic history that continues to shape national identity. In the painting, the artist begins with the form of a typical Buddhist pagoda (easily recognized by its gilded bell-shaped dome, examples of which dot the Myanmarian landscape). But the artist disrupts the expected representation by depicting the structure unembellished against an enigmatic inky-black background. Scattered casually across the dark expanse are squares of gold leaf that recall the opulence of the historic parabeik, concertina-style books illustrated with royal or religious scenes. Unlike the gilded pagodas—tourist attractions and objects of cultural pride—the gold in Aung Myint's painting seems to have become detached and inessential, leaving the dome to radiate even while unadorned. Seeming to critique the privileging of appearance over substance, and acting as a prompt to introspection, the artist's measured observation—rooted as it is in the cultures and histories of a country undergoing political and social reform—also speaks to the inevitability of change, as evidenced in the passage of empires.
June Yap
Free Guggenheim App
Download the app to explore the Guggenheim collection, plan your visit, watch videos, and more.
Send a personalized greeting today!
Guggenheim Books
Visit the Online Store to purchase exhibition catalogues, e-books, and more.