Collection Online
Browse By
Browse By Museum
Browse By Major Acquisition
Shilpa Gupta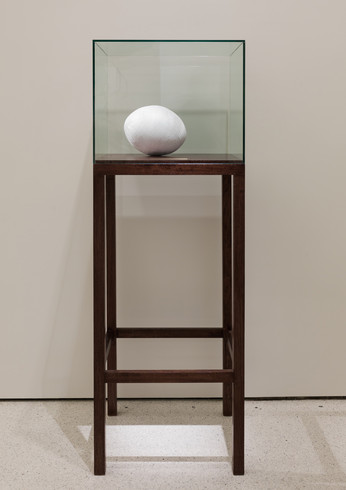 Mumbai-based artist Shilpa Gupta addresses the weighty issues of religion, nationality, and history with wry humor. Using video, sculpture, photography, and sound, she distills critical observations into pithy reflections on conditions in South Asia. In 1:14.9 (2011–12), a hand-wound ball of thread is accompanied by a small plaque reading "1188.5 MILES OF FENCED BORDER – WEST, NORTH-WEST / DATA UPDATE: DEC 31, 2007." Using sterile data about the fencing of the border between India and Pakistan extracted from a publicly available report by the Ministry of Home Affairs in India, she poetically represents the geopolitical division as a gleaming orb—a form that seems, at first, as abstract as the raw statistics from which it is derived. Yet the thread's fragility reflects the tenuous nature of national boundaries, which demand constant restatement and surveillance. The object's ovoid shape also suggests origins or genesis, and calls to mind the South Asian partition, which occurred either side of midnight on August 14, 1947, birthing two distinct nations in immediate succession.
This fraught moment in history, which has repercussions to this day, is referenced more obliquely in Gupta's Threat (2008–09), a wall of bricks, each one stamped with the single word of the title. The tension of this division is, however, illusory, as the bricks are made from water-soluble soap. This testing of the border's instability recurs in 100 Hand Drawn Maps of India (2007–08) and 100 Hand Drawn Maps (2010), components of a larger ongoing project. For these works, the artist travelled from India to Jerusalem and Tel Aviv, inviting participants to draw maps from memory. Layering these drawings atop one another, she illustrates the mercurial nature of nation as idea and, as the work's lines intersect and diverge, its ambivalent and logocentric status (a characteristic previously remarked on by theorist Homi K. Bhabha). By using commonplace objects and materials to navigate the ideological and the physical, 1:14.9 reflects an interesting aspect of Indian aesthetics. The familiar textile material is used with measured allegorical purpose, drawing attention to ordinary realities distinct from the triumphalism found in the art championed by independent India, epitomized in Abanindranath Tagore's famous painting Bharat Mata (Mother India) (1904–05).
June Yap
Free Guggenheim App
Download the app to explore the Guggenheim collection, plan your visit, watch videos, and more.
Send a personalized greeting today!
Guggenheim Books
Visit the Online Store to purchase exhibition catalogues, e-books, and more.