Collection Online
Browse By
Browse By Museum
Browse By Major Acquisition
Poklong Anading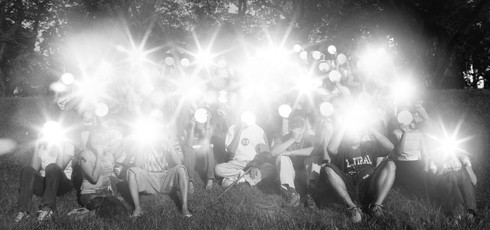 For Anonymity (2004– ), Poklong Anading photographs people in the streets of different cities he visits, showing them holding circular mirrors in front of their faces; this work, Counter Acts (2004), is the first in the series. The photographic gesture of seizing a moment in time—wherein the act of seeing and the nature of light dictate the visual result—is here both doubled and foiled. The gazes of artist and subjects as they attempt to regard one another are obscured, the sunlight that is directed toward the camera by the mirrors controverting both the act of observation and the act of photography. In this group shot, the obstruction of vision is multiplied, intensifying this effect. The image is grainy and overexposed, its detail is, ironically, apparent in its shadows and darker areas. The anticipated process of illumination and revelation never occurs, the result speaking instead to concealment and the absence of knowledge. Presenting this image on a lightbox, the artist magnifies further the instability of the photographic surface, as this format speeds up the degeneration of the image over time.
Counter Acts is representative of a practice that ranges over photography, painting, video, sculpture, and installation. Anading's projects are characterized by a distinctive perspective on and measured intervention in social phenomena. Scouring public space for his materials, he utilizes the ordinary and banal, responding subtly but immediately to his environment. As in his interventions, Anading's engagement with the subjects of the Anonymity series is fleeting. In another notable work Light suffers if there is no place to fall from (2007) Anading set up a neon light in the shape of a mousetrap at Finale Art Gallery in Manila. As viewers at the opening of the exhibition gathered around the structure, taking it for the artwork, Anading, standing behind them, surreptitiously photographed his audience enthralled in the act of looking. In this work, as in Counter Acts, medium and subject are exchanged in a canny reversal, resulting in not just an image or a representation, but also in a conceptual act.
June Yap
Free Guggenheim App
Download the app to explore the Guggenheim collection, plan your visit, watch videos, and more.
Send a personalized greeting today!
Guggenheim Books
Visit the Online Store to purchase exhibition catalogues, e-books, and more.