Collection Online
Browse By
Browse By Museum
Browse By Major Acquisition
Norberto Roldan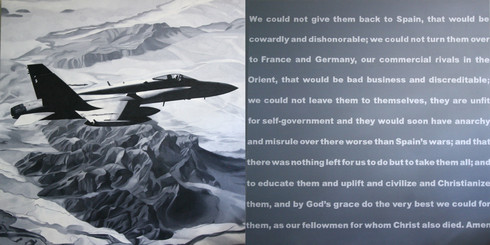 Norberto Roldan's work offers a commentary on the social, political, and cultural conditions of the Philippines via simple but apposite assemblages of object, text, and image. In F-16 (2012), Roldan explores the subject of power negotiation in geopolitical encounters by drawing a relationship between the colonization of the Philippines and events on today's global stage. Excerpting from an interview published in the early 20th century with William McKinley, the 25th President of the United States, who victoriously led the "benevolent assimilation" of the Philippines in the Spanish-American War of 1898, the textual half of the diptych quotes the then-President on the reasons for occupation. According to McKinley, the Filipino people "are unfit for self-government and they will soon have anarchy and misrule there worse than Spain's wars; […] there was nothing left for us to do but take them all; and to educate them and uplift and civilize and Christianize them."
Subsequent tensions between the Filipino people and American forces would lead to their ouster of U.S. military presence, and to the independence of the Philippines in 1898. Juxtaposed with McKinley's utterance is an image of an American fighter jet cruising over Afghanistan post-9/11, a reference to Operation Enduring Freedom. In this diptych, the artist presents an open-ended dilemma that reflects not only the two historical events, but also, in relating them, points to the effects of domination and force, specifically their tendency to beget other such interventions and conflicts and thereby perpetuate a cycle of retaliation and vengeance. The juxtaposition of the two events, separated by a century, reveals a critique of human folly as destined to repeat its mistakes.
Cofounder, in 1986, of Black Artists in Asia, a group formed to observe political, social, economic, and cultural issues through aesthetic practice, Roldan is also one of the founders of Manila gallery Green Papaya Art Projects. While the artist's painterly approach in F-16 appears to diverge from his earlier assemblages, it entails a similarly intimate transformation of historical reference in its reproduction of found elements. The earlier works bind contrary elements together—one series juxtaposes the sacred and profane by pairing found objects with Roman liturgical vestments—while the monochromatic palette of F-16 renders image and text parallel in a way that questions the status of both. Yet Roldan's introspective works, which display the formal influence of Joseph Cornell and Filipino artist Santiago Bose, transcend the specificities of Filipino history and politics to suggest an intimate connection with the wider world.
June Yap
Free Guggenheim App
Download the app to explore the Guggenheim collection, plan your visit, watch videos, and more.
Send a personalized greeting today!
Guggenheim Books
Visit the Online Store to purchase exhibition catalogues, e-books, and more.