Collection Online
Browse By
Browse By Museum
Browse By Major Acquisition
Mark Grotjahn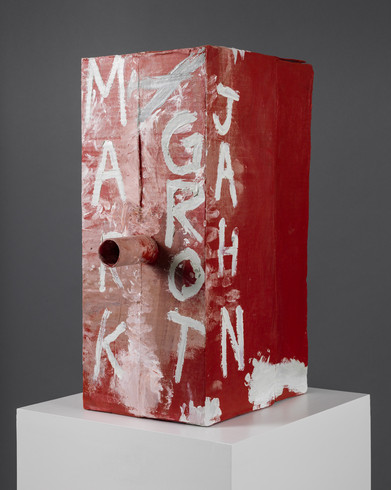 For over a decade, Mark Grotjahn has been making cardboard sculptures that he calls "masks." The works began as a private form of release for the artist, away from his more formal butterfly paintings, such as Untitled (Blue Painting Light to Dark X) (2006). Constructed from mundane materials such as art supply boxes and toilet-paper rolls, some masks, such as those formed from beer boxes that the artist saved from his wedding, carry more personal significance. Loosely figurative, the masks invoke childhood craft projects while also referencing in resolutely primitive forms various art-historical predecessors. Grotjahn has recently begun casting his studio experiments in bronze and expressively painting the surfaces, as in Untitled (Ten Dollar Foxes, White on Red Mask M14.d) (2012).
Lauren Hinkson
Free Guggenheim App
Download the app to explore the Guggenheim collection, plan your visit, watch videos, and more.
Send a personalized greeting today!
Guggenheim Books
Visit the Online Store to purchase exhibition catalogues, e-books, and more.