Collection Online
Browse By
Browse By Museum
Browse By Major Acquisition
Claude Monet
b. 1840, Paris, France; d. 1926, Giverny, France
Biography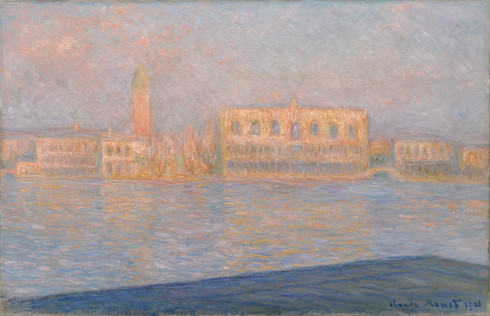 Claude Monet's preponderant role in the development of Impressionism tends to overshadow the fact that his views of Venice, made in the first decade of the twentieth century, were directly contemporaneous with one of the most crucial moments in the history of Modernism: Pablo Picasso's passage to Cubism in 1907–08. Similarly, it is easy to forget that Monet's Venetian paintings succeeded by just a couple of years the full-fledged explosion of colors that took place at the hands of André Derain, Henri Matisse, and Maurice de Vlaminck during their short-lived Fauve episode in 1905–06. Arguably, Monet's high-pitched and color-saturated views of Venice owe more to Derain's paintings of London of 1905–06 (such as Big Ben, 1905, Musée d'art Moderne de Troyes) than to his own early Impressionist scenes of that city, made in 1870–71. Reciprocally, these paintings by Derain had been prompted by Monet's views of the Thames, begun in 1899 and exhibited at the Galerie Durand-Ruel in Paris in 1904. These mutual interactions, which paved the way toward the series of views of Venice, situate Monet's artistic production at the dawn of the twentieth century within a broad Modernist canon—rather than in a languishing and aging Impressionist idiom.
Of the three dozen paintings that Monet produced in Venice in 1908, twenty-nine were exhibited for the first time as a series—or, more accurately, as a group of series—at the gallery Bernheim-Jeune in Paris from May 28 to June 8, 1912. Monet's exhibition was hailed as a triumph by most critics, who did not fail to draw a connection between his work and early modernism. Guillaume Apollinaire, the poet, art critic, and great champion of Cubism, was laudatory about Monet. To Apollinaire's eye, Cubism was a pure, lucid art that did not attempt to transmit a "visual perception" of any object, but "to give an idea, i.e., the objective truth" of that object.¹ It was around this same notion of "truthfulness" that Apollinaire praised Monet's views of Venice, writing that this "concern for truth" led the viewer to understand Venice apart from its mythical status and reduced to its reality: canals seen through mist or haze. The artist's views of the city are animated by his desire to get down to the bare essentials of what he selected to look at. Venice was, for him, a return to basic materials—stones, light, water, mist—each interacting with the other to produce a mosaic of suffused iridescent hues that saturate the entire surface of the canvas. Never before had Venice been so severely stripped of all its mythical attributes; never had the materiality of the air and the haze and their colors coalesced into something as real—as truthful—as they did in Monet's paintings.
Joachim Pissarro
1. Guillaume Apollinaire, "La Peinture moderne" (1913), in Chroniques d'art (1902–1918) (Paris: Gallimard, 1960), pp. 272–73. (English translation by the author.)
Free Guggenheim App
Download the app to explore the Guggenheim collection, plan your visit, watch videos, and more.
Send a personalized greeting today!
Guggenheim Books
Visit the Online Store to purchase exhibition catalogues, e-books, and more.