Collection Online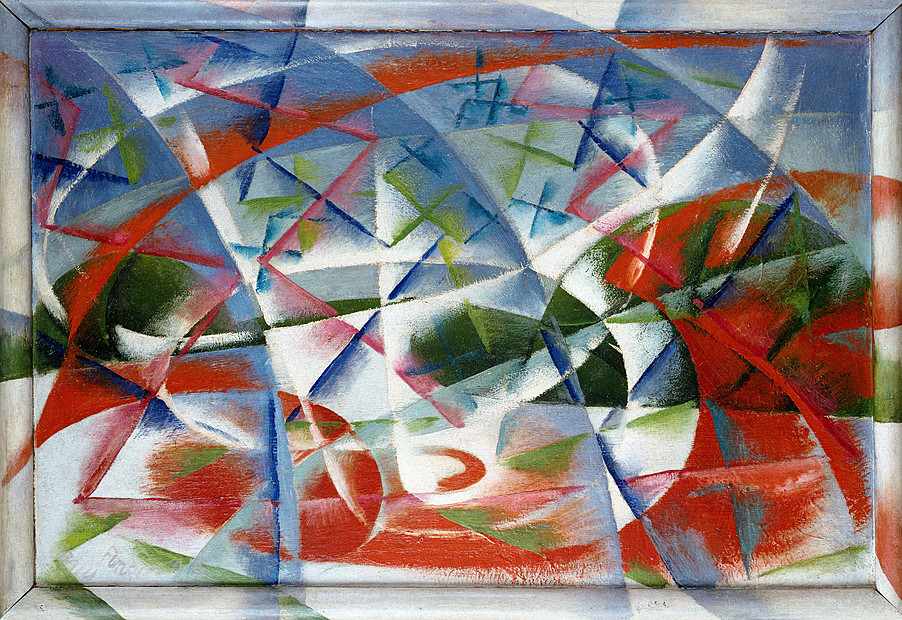 Giacomo Balla
Abstract Speed + Sound (Velocità astratta + rumore)
Artist
Giacomo Balla b. 1871, Turin; d. 1958, Rome
Title
Abstract Speed + Sound (Velocità astratta + rumore)
Date
Medium
Oil on unvarnished millboard in artist's painted frame
Dimensions
framed: 21 1/2 x 30 1/8 inches (54.5 x 76.5 cm)
Credit Line
The Solomon R. Guggenheim Foundation Peggy Guggenheim Collection, Venice, 1976
Accession
76.2553.31
Copyright
2016 Artists Rights Society (ARS), New York/SIAE, Rome
Artwork Type
Movement
In late 1912 to early 1913 Giacomo Balla turned from a depiction of the splintering of light to the exploration of movement and, more specifically, the speed of racing automobiles. This led to an important series of studies in 1913–14. The choice of automobile as symbol of abstract speed recalls Filippo Tommaso Marinetti's notorious statement in his first Futurist manifesto, published on February 20, 1909, in Le Figaro in Paris, only a decade after the first Italian car was manufactured: "The world's splendor has been enriched by a new beauty: the beauty of speed. . . . A roaring automobile . . . that seems to run on shrapnel, is more beautiful than the Victory of Samothrace."
It has been proposed that Abstract Speed + Sound (1913–14) was the central section of a narrative triptych suggesting the alteration of landscape by the passage of a car through the atmosphere.1 The related Abstract Speed (Velocità + paesaggio, 1913) and Abstract Speed—The Car Has Passed (1913) would have been the flanking panels. Indications of sky and a single landscape are present in the three paintings; the interpretation of fragmented evocations of the car's speed varies from panel to panel. The Peggy Guggenheim work is distinguished by crisscross motifs, representing sound, and a multiplication of the number of lines and planes.
The original frames of all three panels were painted with continuations of the forms and colors of the compositions, implying the overflow of the paintings' reality into the spectator's own space. Many other studies and variations by Balla on the theme of a moving automobile in the same landscape exist.
Lucy Flint
1. Virginia Dortch Dorazio, Giacomo Balla: An Album of His Life and Work (New York: Wittenborn, 1969) figs. 2–4.