Collection Online
Browse By
Browse By Museum
Browse By Major Acquisition
László Moholy-Nagy
b. 1895, Borsod, Austria-Hungary; d. 1946, Chicago
Biography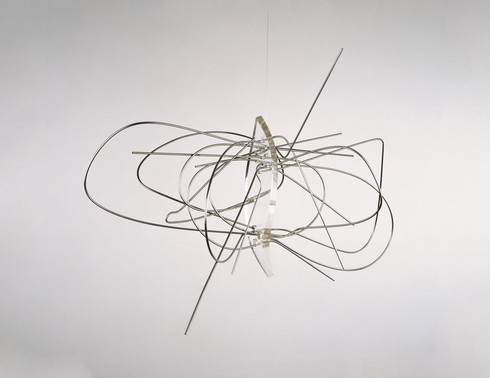 László Moholy-Nagy's utopian view that the transformative powers of art could be harnessed for collective social reform—a tenet embedded in much Modernist theory—reflected his early association with the leftist Hungarian group MA (Today), a coalition of artists devoted to the fusion of art and political activism. It was also tied to his long-standing affiliation with the Bauhaus, the German artistic and educational community founded by Walter Gropius and dedicated to the development of a universally accessible design vocabulary. With his Bauhaus colleagues, who included Josef Albers, Vasily Kandinsky, Paul Klee, and Oskar Schlemmer, he strove to define an objective science of essential forms, colors, and materials, the use of which would promote a more unified social environment.
Moholy-Nagy firmly believed that the art of the present must parallel contemporary reality in order to successfully communicate meaning to a public surrounded by new technological advancements. Hence, he considered traditional, mimetic painting and sculpture obsolete and turned to pure geometric abstraction filtered through the stylistic influence of Russian Constructivism. Inspired by the structural and formal capacities of modern, synthetic materials, Moholy-Nagy experimented with transparent and opaque plastics, particularly Celluloid, Bakelite, Trolitan, and Plexiglas. In 1923 he created his first painting on clear plastic, giving physical form to his profound interest in the effects of light, which would later be manifest in film and photography as well as in transparent sculptures, such as the kinetic Dual Form with Chromium Rods.
A II and AXL II illustrate how Moholy-Nagy translated his efforts to manipulate light "as a new plastic medium" onto the painted canvas. In the first painting, the colored parallelograms and circles appear to be almost translucent as one plane overlaps the next and their hues shift accordingly. In the second, the intersecting transparent forms read as converging beams of light. A sense of layered space, echoing the artist's three-dimensional plastic "paintings" constructed with clear, projecting planes, was thus achieved. The contrived play of shadow and illumination on these canvases underscores the artist's conviction that light could be harnessed as an effective aesthetic medium, "just as color in painting and tone in music."
Nancy Spector
Free Guggenheim App
Download the app to explore the Guggenheim collection, plan your visit, watch videos, and more.
Send a personalized greeting today!
Guggenheim Books
Visit the Online Store to purchase exhibition catalogues, e-books, and more.