Collection Online
Browse By
Browse By Museum
Browse By Major Acquisition
Jean Metzinger
b. 1883, Nantes, France; d. 1956, Paris
Biography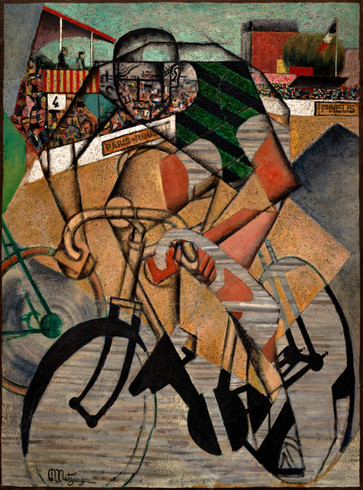 Jean Metzinger, a sensitive and intelligent theoretician of Cubism, sought to communicate the principles of this movement through his paintings as well as his writings. Devices of Cubism and Futurism appear in At the Cycle-Race Track, though they are superimposed on an image that is essentially naturalistic. Cubist elements include printed-paper collage, the incorporation of a granular surface, and the use of transparent planes to define space. The choice of a subject in motion, the suggestion of velocity, and the fusing of forms find parallels in Futurist painting. Though these devices are handled with some awkwardness and the influence of Impressionism persists, particularly in the use of dots of color to represent the crowd in the background, this work represents Metzinger's attempt to come to terms with a new pictorial language.
Lucy Flint
Free Guggenheim App
Download the app to explore the Guggenheim collection, plan your visit, watch videos, and more.
Send a personalized greeting today!
Guggenheim Books
Visit the Online Store to purchase exhibition catalogues, e-books, and more.