Collection Online
Browse By
Browse By Museum
Browse By Major Acquisition
Danh Vo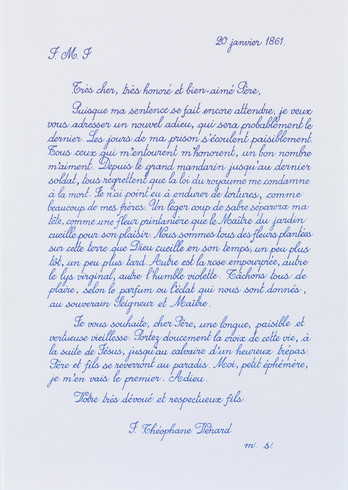 Danh Vo often employs deceptively simple objects and found texts to meld personal biographical narratives with global political histories. For 2.02.1861, the artist asked his father Phung Vo to transcribe the last communication from the French Catholic Saint Théophane Vénard to his own father before he was decapitated in 1861 in Vo's native Vietnam. Written in French, the letter was mailed to the Guggenheim by the artist's father and archived in a ledger; although multiple copies of the transcribed letter exist, the total number will remain undefined until Phung Vo's death. 2.02.1861 complicates traditional notions of authorship and demonstrates the centrality of familial relationships within Danh Vo's work, especially the father-son relationship that is presented here as a tragic historical archetype.
Lauren Hinkson
Free Guggenheim App
Download the app to explore the Guggenheim collection, plan your visit, watch videos, and more.
Send a personalized greeting today!
Guggenheim Books
Visit the Online Store to purchase exhibition catalogues, e-books, and more.