Collection Online
Browse By
Browse By Museum
Browse By Major Acquisition
Barbara Kruger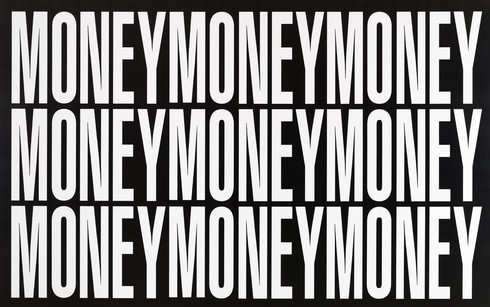 Since 1969, Barbara Kruger has juxtaposed photographs culled from mass media with pithy slogans in a subversive attack on the ways in which self-identity, desire, and public opinion are manipulated and perpetuated. Her often caustic presentations—ranging from billboards, T-shirts, and posters to the signature red-bordered montages of words and images—play on clichés and cultural stereotypes to underscore and, eventually, undermine the persuasive power of representation. Untitled (Money money money) simplifies Kruger's sloganeering into one all-encompassing reminder of a dominant source of power in 2011, amid a climate of economic recession yet record corporate (and art-market) profits.
Free Guggenheim App
Download the app to explore the Guggenheim collection, plan your visit, watch videos, and more.
Send a personalized greeting today!
Guggenheim Books
Visit the Online Store to purchase exhibition catalogues, e-books, and more.