Collection Online
Browse By
Browse By Museum
Browse By Major Acquisition
Christiane Feser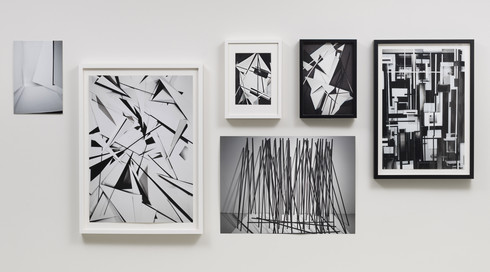 The abstract photographs in Christiane Feser's Latent Constructs (Latente Konstrukte, 2010–11) series originate from a process of deconstruction and assembly. Beginning with a paper construction of cut-up forms and handmade patterns, Feser uses an analog camera to photograph the composition repeatedly, capturing multiple views of the three-dimensional structure. These images are then digitally processed using techniques such as retouching and superimposition. The exchanges between the artist's hand, the camera's lens, and digital manipulation compound to complicate the fundamental elements of photography: light, shadow, and subject. The resulting images address the origin and perception of digitally generated images. The layered surfaces accumulate through the artist's painstaking process and present a tactile terrain that remains two-dimensional despite the seemingly haptic, interposed layers and definitively optic experiences of the viewer.
Carmen Hermo
Free Guggenheim App
Download the app to explore the Guggenheim collection, plan your visit, watch videos, and more.
Send a personalized greeting today!
Guggenheim Books
Visit the Online Store to purchase exhibition catalogues, e-books, and more.