Collection Online
Browse By
Browse By Museum
Browse By Major Acquisition
Agnes Martin
b. 1912, Macklin, Saskatchewan, Canada; d. 2004, Taos, New Mexico
Biography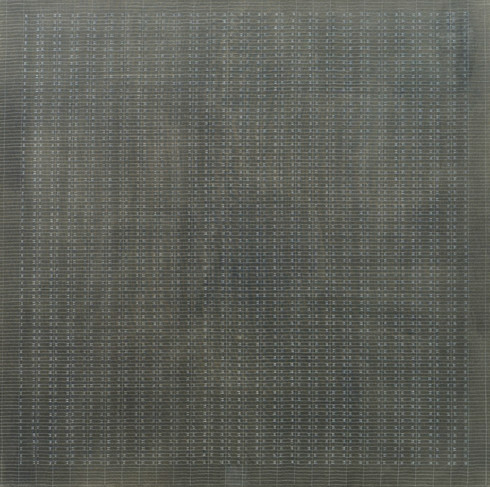 Agnes Martin's earliest experiments with an abstract idiom were based on her observations of the desert terrain of New Mexico, where she lived during the 1940s. It was there that she developed a personal vocabulary of provocative, abstract forms—similar to the formative biomorphic or pictographic works of William Baziotes, Adolph Gottlieb, and Mark Rothko—at a time when American artists were searching for the aesthetic means to convey subjective states and to intimate the existence of other, higher realities. By 1960 Martin had developed her signature grid pattern; the compositional motifs of these pristine, monochromatic paintings consist of a simple system of interlocking horizontal and vertical lines in an almost exclusively six-foot-square format. The titles of these geometrically organized pictures—Mountains (1960), Dark River (1961), Starlight (1963), Leaf in the Wind (1963), Orange Grove (1965), Spring (1965), and White Flower (1960), to cite just a few—attest to Martin's persistent engagement with themes of the organic world, albeit in an abstract manner. At this time she distilled the appearance of empirical entities and expressed her own emotional response to nature through the most extreme economy of formal means. "Anything," Martin claimed in 1972, "can be painted without representation."¹
Unlike the more rigidly formulaic art of much Minimalist work, there is nothing systematic about Martin's use of the grid; the arrangement of coordinates shifts in scale and rhythm from work to work. The grid in White Flower—composed of intersecting white lines that form individual rectangles punctuated by symmetrical white dashes—resembles woven fabric. Consistent throughout Martin's mature oeuvre is an absolute equivalence of form. The compositions are emphatically nonhierarchical; no one component is privileged over another. The delicacy of Martin's style—promoted by the artist's frequent use of light graphite lines and cool tones such as pink and pale gray—masks her impulse toward stringent formal equality. Her paintings must be read as unitary entities, not as assemblies of single elements. This does not mitigate the complexity of their construction, however. The freely drawn grids, fragile, almost dissolving lines, and hushed tones of the paintings require quiet contemplation in order for the subtleties of their individual compositions to be revealed.
Nancy Spector
1. Agnes Martin, Writings/Schriften, ed. Dieter Schwarz (Ostfildern-Ruit, Germany: Hatje Cantz, 1998), p. 37.
Free Guggenheim App
Download the app to explore the Guggenheim collection, plan your visit, watch videos, and more.
Send a personalized greeting today!
Guggenheim Books
Visit the Online Store to purchase exhibition catalogues, e-books, and more.