Collection Online
Browse By
Browse By Museum
Browse By Major Acquisition
Conrad Marca-Relli
b. 1913, Boston; d. 2000, Parma, Italy
Biography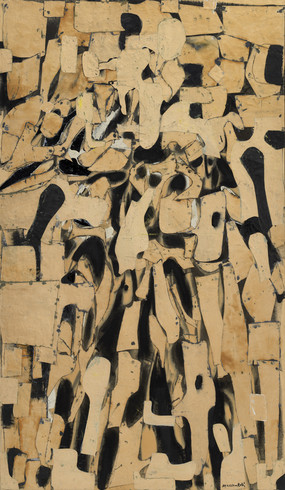 Conrad Marca-Relli entered the vibrant New York art scene in the late 1940s, joining those working downtown around Greenwich Village and becoming a founding member of the Club, an informal assembly of avant-garde artists. While visiting Mexico in 1953, Marca-Relli ran out of paint and soon began experimenting with collage, creating essentially pictorial effects of color, texture, and depth. In Warrior (1956), he arranged several abstract, cutout canvas shapes on a large canvas and emphasized these interlocking forms with touches of oil paint. The focus is the figure-like form at the center, an evolution from his single-figure compositions of the preceding years. Neutral colors, stability of forms, and his use of collage also recall contemporary works by Italian artist Alberto Burri.
Free Guggenheim App
Download the app to explore the Guggenheim collection, plan your visit, watch videos, and more.
Send a personalized greeting today!
Guggenheim Books
Visit the Online Store to purchase exhibition catalogues, e-books, and more.