Collection Online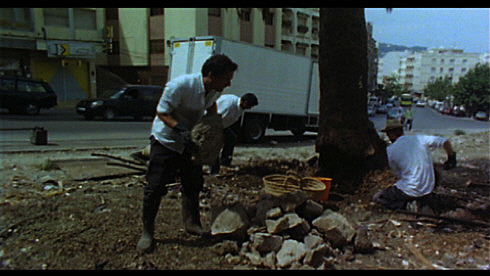 Yto Barrada
Beau Geste (Beautiful Gesture)
Artist
Yto Barrada b. 1971, Paris
Title
Beau Geste (Beautiful Gesture)
Date
Medium
Digital color video, transferred from 16 mm film, 3 min.
Edition
edition 1/5
Credit Line
Solomon R. Guggenheim Museum, New York Purchased with funds contributed by the Young Collectors Council, 2010
Accession
2010.63
Copyright
Yto Barrada
Artwork Type
Yto Barrada's Beau Geste (Beautiful Gesture, 2009) explores globalization as experienced in Tangier, her home city in Morocco, by presenting resolutely unspectacular images that often dwell on marginal zones such as geographical borders, parking lots, and abandoned buildings. This film documents a facile and efficient endeavor to shore up a palm tree's roots in a vacant lot marked for development. The action was organized by the artist, whose voice-over expresses her hope that the rescued tree will in some way delay the construction that poses as progress but portends homogeneity. More than an environmental statement on preservation, this attempt to save a lone tree acts as an emblem of subtle local resistance to the recent wave of modernization in Tangier.
Carmen Hermo