Collection Online
Browse By
Browse By Museum
Browse By Major Acquisition
Moyra Davey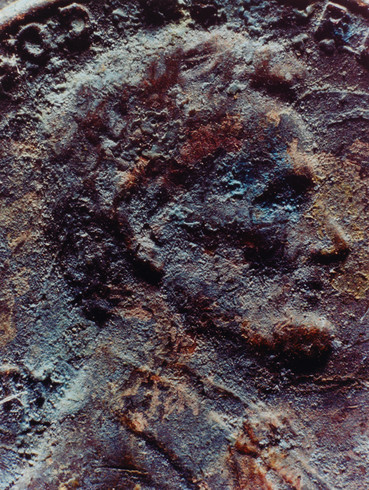 Moyra Davey's Copperhead series, conceived following the stock market crash of 1987, consists of one hundred photographs of pennies, which she often installs as a grid. Each coin is seen in extreme close-up, so that Abraham Lincoln's familiar visage is reduced to a strange, foreign terrain. The images are printed in a format and scale that suggest a traditional portrait, thus undercutting the mythic and monumental stature typically afforded the former president (as in his representation on Mount Rushmore, South Dakota). Because the surfaces of the pennies have been worn down by touch, their appearances vary widely and each photograph is unique; the series as a whole thus emphasizes the individuality of the pennies as objects, as opposed to the standard value assigned them as objects of exchange. Indeed, they come to seem like many sculptures molded by thousands, if not millions, of anonymous hands.
Davey's work commonly encourages a close reading of ordinary items that are usually overlooked. Her close-ups of stacks of books, dating from the late 1990s, often include touching signs of humanity, such as a tube of ointment for athlete's foot, or the accumulation of dust. The Copperheads, however, mark a more theoretical turn in her work. By simply drawing attention to the lowest denomination of currency, the Copperheads could be seen as a way of emphasizing thrift in response to the type of excess that led to the 1987 crash. Further, not only are the images themselves abstracted, but at that time, the subject she chose to depict—money and, by extension, the broader financial realm—was becoming increasingly dematerialized. Today the series takes on new meaning, as the flow of capital has less to do with physical currency than with technologically driven speculation, and as most financial transactions now take place in the virtual realm.
Claire Barliant
Free Guggenheim App
Download the app to explore the Guggenheim collection, plan your visit, watch videos, and more.
Send a personalized greeting today!
Guggenheim Books
Visit the Online Store to purchase exhibition catalogues, e-books, and more.