Collection Online
Browse By
Browse By Museum
Browse By Major Acquisition
James Casebere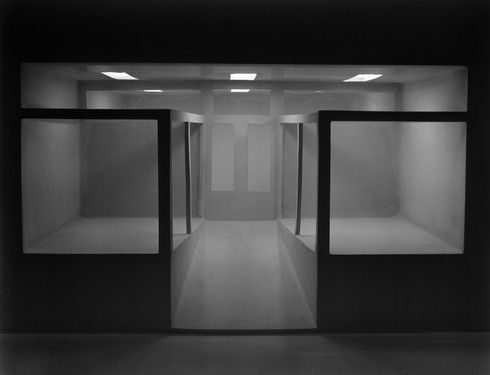 Since the 1970s, James Casebere has created photographs of architectural sites that are integral to systems of commerce, labor, religion, health, and law. Rather than documenting real buildings, however, Casebere fabricates tabletop models in his studio using manufactured materials like Foamcore and Styrofoam. His versions of stores, suburban housing, factories, and government buildings remain empty of detail and human figures. In the important early work Storefront, with its bare window displays of a generic store, only the dim overhead light suggests any sign of life in a scene that appears otherwise abandoned. Yet even the light elicits a ghostlike quality, casting a pallid glow on the cold geometry of a structure that is both indistinct and hauntingly familiar. The artist has suggested that this work references the financial circumstances of the 1980s that buoyed large corporations while bankrupting smaller businesses.
Lauren Hinkson
Free Guggenheim App
Download the app to explore the Guggenheim collection, plan your visit, watch videos, and more.
Send a personalized greeting today!
Guggenheim Books
Visit the Online Store to purchase exhibition catalogues, e-books, and more.