Collection Online
Browse By
Browse By Museum
Browse By Major Acquisition
William Cordova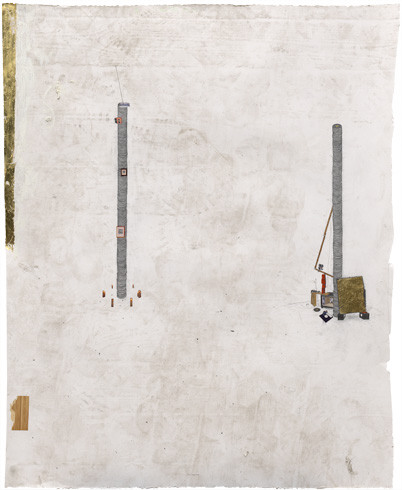 Collaged elements of paper, gold, hair, and dust coalesce among representations of what the artist terms "vernacular architecture": stacks of vinyl records so high they become columns, supported by speakers acting as pedestals or surrounded by shimmering votive candles. This repurposing of sound and music equipment symbolizes William Cordova's interest in spoken language, oral history, and cultural memory. Here the accumulation of records parallels that of the stories and words that together build a culture's history, in this case creating monuments in the name of Pachamama, the Andean goddess who guides and protects the world. The title now's the time draws inspiration from various sources: Todd Shaw's tome Now Is the Time! Detroit Black Politics and Grassroots Activism (2009) as well as black artist Jean-Michel Basquiat's painting Now's the Time (1985), which itself was based on the titular 1945 Charlie Parker song whose legendary recording session helped usher in bebop, a new phase within jazz, a genre known for improvisation and experimentation. Here, the song is recalled to laud music and creativity as essential in the telling of history.
Carmen Hermo
Free Guggenheim App
Download the app to explore the Guggenheim collection, plan your visit, watch videos, and more.
Send a personalized greeting today!
Guggenheim Books
Visit the Online Store to purchase exhibition catalogues, e-books, and more.