Collection Online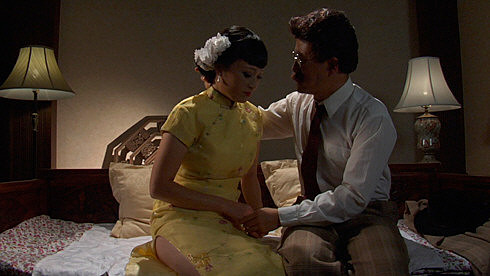 Patty Chang
The Product Love (Die Ware Liebe)
Artist
Patty Chang b. 1972, San Francisco
Title
The Product Love (Die Ware Liebe)
Date
Medium
Two-channel digital video installation, 42 min.
Dimensions
dimensions variable
Edition
edition 1/6
Credit Line
Solomon R. Guggenheim Museum, New York Purchased with funds contributed by Manuel de Santaren, 2009
Accession
2009.54
Copyright
2009 Patty Chang
Artwork Type
Walter Benjamin's "A Chinoiserie Out of the Old West," a 1928 article for the German magazine Die Literarische Welt in which he recounts his meeting with the American movie star Anna May Wong, is the basis for Patty Chang's two-channel video installation The Product Love (Die Ware Liebe) (2009). The installation's first video features two women (one of whom is Asian) and a man struggling to translate Benjamin's article into English. As they stumble through the text, their stilted translation suggests a sense of awe on the part of the writer: Benjamin reports that Wong "loves tragic scenes" and "combs her hair in the style of a dragon playing in water." He asks Wong what means of expression she would turn to if film were no longer available. Wong answers, according to the original German text, "touch would"—a misspelling that suggests unfamiliarity with the expression "touch wood." To reinforce the linguistic gap, one of the translators interprets the homophonous phrase literally, explaining that Wong means that she would turn to touch as an alternative to film. This amusing mise en abyme of misunderstandings leads into the second video, which is projected onto a different screen after the first one ends. The opening scene takes place in a Chinese beauty parlor in which two Chinese actors are being made up to look like Benjamin and Wong. Chang again highlights the unintentional errors that occur during translation. A director speaking in Mandarin is translated as saying that for Benjamin, Wong represented Chinese culture, and that "he just want to flirt or want to touch the parts of the woman's body that make May Wong feel good. . . . How to call that in English? G-point. G-spot." The remainder of the film is a soft-core porn scene between the two actors, who seem uncomfortable in their roles, and their discomfort reinforces not only the temporal gulf between 1928 and 2009, but also the cultural differences between Benjamin and Wong.
Claire Barliant