Collection Online
Browse By
Browse By Museum
Browse By Major Acquisition
Robert Mangold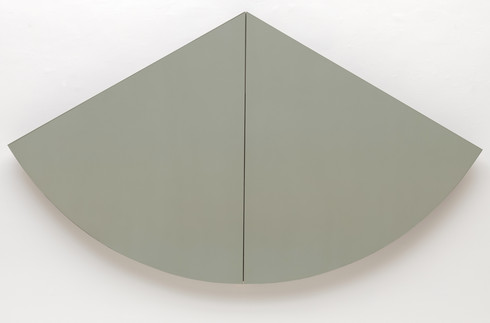 Robert Mangold's Curved Areas (1966–67) reflect a loose connection to the empirical world, as in his previous series inspired by the rooftops of Manhattan, Walls and Areas of the mid-1960s. In the summer of 1965, Mangold painted sketches of the negative space between mountains in upstate New York. With the aid of a compass, the artist translated these outlines into regular geometric forms. He prohibited any association with the landscape by selecting neutral colors drawn from factory-made sources, such as brown paper bags and office supplies, and applied them in single, even matte layer. By dividing the painting vertically into separate panels, Mangold further counteracts the illusion of depth and calls attention to the work's physical support. For all their distinctness as self-contained objects, however, these paintings invite the viewer to mentally extend the curves on either side and resolve them into a one continuous circle.
Free Guggenheim App
Download the app to explore the Guggenheim collection, plan your visit, watch videos, and more.
Send a personalized greeting today!
Guggenheim Books
Visit the Online Store to purchase exhibition catalogues, e-books, and more.