Collection Online
Browse By
Browse By Museum
Browse By Major Acquisition
René Magritte
b. 1898, Lessines, Belgiom; d. 1967, Brussels, Belgium
Biography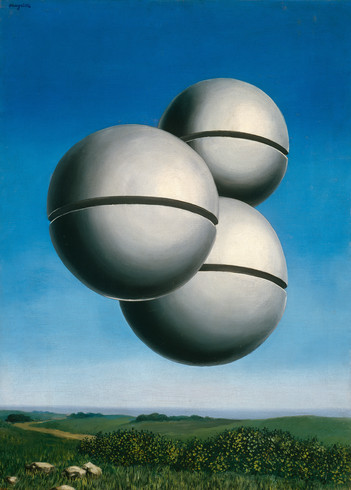 Influenced by Giorgio de Chirico, René Magritte sought to strip objects of their usual functions and meanings in order to convey an irrationally compelling image. In Voice of Space (of which three other oil versions exist), the bells float in the air; elsewhere they occupy human bodies or replace blossoms on bushes. By distorting the scale, weight, and use of an ordinary object and inserting it into a variety of unaccustomed contexts, Magritte confers on that object a fetishistic intensity. He has written of the jingle bell, a motif that recurs often in his work: "I caused the iron bells hanging from the necks of our admirable horses to sprout like dangerous plants at the edge of an abyss."¹
The disturbing impact of the bells presented in an unfamiliar setting is intensified by the cool academic precision with which they and their environment are painted. The dainty slice of landscape could be the backdrop of an early Renaissance painting, while the bells themselves, in their rotund and glowing monumentality, impart a mysterious resonance.
Lucy Flint
1. Quoted in S. Gablik, Magritte, Greenwich, Connecticut, 1970, p. 183.
Free Guggenheim App
Download the app to explore the Guggenheim collection, plan your visit, watch videos, and more.
Send a personalized greeting today!
Guggenheim Books
Visit the Online Store to purchase exhibition catalogues, e-books, and more.