Collection Online
Browse By
Browse By Museum
Browse By Major Acquisition
Sol LeWitt
b. 1928, Hartford, Connecticut; d. 2007, New York
Biography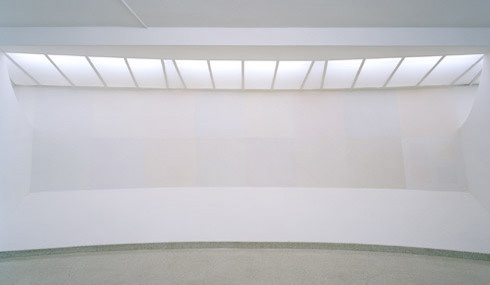 At the beginning of the 1960s, Sol LeWitt produced pictorial reliefs that he called "structures," a term adopted in order to underscore the work's fusion of elements of painting and sculpture. By the middle of the decade he had turned to the exploration of serial form in three-dimensional, gridlike structures and drawings. He developed a spare formal vocabulary consisting of the cube and the square that, when organized by pre-established systems, allowed for variations and permutations.
With the publication in 1967 of his essay "Paragraphs on Conceptual art," LeWitt outlined a new direction in art, in which the systems shaping the object became the work itself and the object became an optional by-product. This privileging of concept over form—most memorably summed up in LeWitt's dictum "The idea becomes a machine that makes the art"¹—resulted in both a reconception of the status of the unique art object and a radical devaluing of the individual artist's mark.
For his wall drawings, the first of which he made in 1968, LeWitt limited himself to conceiving and planning the drawing, providing verbal instructions on a certificate and an accompanying diagram. Works such as Wall Drawing #264. A wall divided into 16 equal parts with all one-, two-, three-, and four-part combinations of lines in four directions and four colors. (first installed in Varese, July 1975) exist as a proposal on paper until they are executed by assistants, and the look of the final work is shaped by the architecture of the site, the size and texture of the wall, and the individual or individuals producing the drawing. This rigorously conceptual process of realization ensures that the autographic touch of the artist is wholly absent. Nevertheless, the wall drawings have the capacity to result in visually sensuous images.
The wall drawings can be executed in different places—they may be painted out or re-created elsewhere. Several versions of the work may therefore exist over time; however, none will be identical. The impermanent nature of LeWitt's wall drawings privileges the momentary over the monumental. In this respect his work discounts many of the most cherished notions in modernist accounts of art.
1. Sol LeWitt, "Paragraphs on Conceptual Art," Artforum 5, no. 10 (June 1967), p. 80.
Free Guggenheim App
Download the app to explore the Guggenheim collection, plan your visit, watch videos, and more.
Send a personalized greeting today!
Guggenheim Books
Visit the Online Store to purchase exhibition catalogues, e-books, and more.