Collection Online
Browse By
Browse By Museum
Browse By Major Acquisition
Sol LeWitt
b. 1928, Hartford, Connecticut; d. 2007, New York
Biography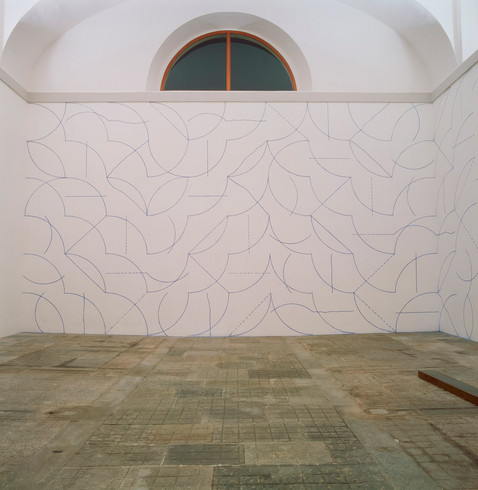 In the 1960s, the position that art could be generated by ideas rather than emotions was a radical one. Using mathematical and linguistic models, artists such as Hanne Darboven, Joseph Kosuth, and Lawrence Weiner began to explore the ramifications of this conceptual approach. For Sol LeWitt, this meant establishing systems of logic in the form of written instructions—such as "lines from the corner, sides, and center to points on a grid" or "all three-part variations on three different kinds of cubes"—that govern the outcome of an artwork in advance of its execution. The clarity of this process minimizes the singular emphasis on the appearance of a work as a discrete object, instead mining the relationship between linguistic and visual conventions of representation. Indeed, the apparent simplicity of these textual systems, whether applied to LeWitt's wall drawings or his modular structures, belies a visual complexity of seemingly endless permutation and establishes a conceptual foundation for a rigorous yet rich body of work.

Traditionally, the worked surface of a drawing has been understood as the most intimate and direct record of an artist's creative process; by leaving the execution to others, LeWitt ensures that his autographic touch is wholly absent. Wall Drawing #146 exemplified LeWitt's method of rendering the work a product of an intellectual gambit that functions via the possibilities posed by the instructions: "All two-part combinations of blue arcs from corners and sides and blue straight, not straight, and broken lines." Constituting a dialectic between simplicity and complexity, austerity and sumptuousness, the mural surfaces of the artist's wall drawings operate in the gap between the logical and the lyrical.

LeWitt's serial grammar rejects the authority invested in the singular in favor of the repeatable and nonhierarchical, while the impermanent nature of his wall drawings privileges the momentary over the monumental. In this, his work discounts many of the most cherished notions that pervade modernist accounts of art. Despite the conceptual strategies LeWitt devised to position form in the service of ideas, his work demonstrates that while concept may take primacy over its visual analogue, ultimately neither is in and of itself wholly sufficient.
J. Fiona Ragheb
Free Guggenheim App
Download the app to explore the Guggenheim collection, plan your visit, watch videos, and more.
Send a personalized greeting today!
Guggenheim Books
Visit the Online Store to purchase exhibition catalogues, e-books, and more.