Collection Online
Browse By
Browse By Museum
Browse By Major Acquisition
Fernand Léger
b. 1881, Argentan, Normandy, France; d. 1955, Gif-sur-Yvette, France
Biography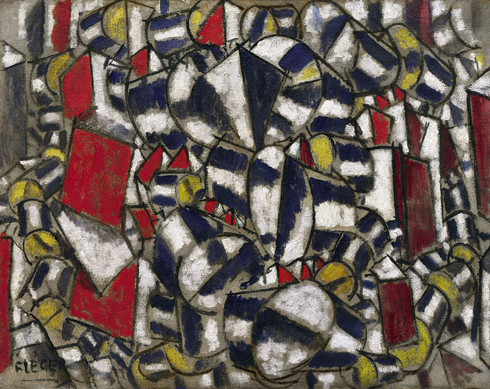 Art historian and critic Michel Seuphor proclaimed that 1912 was "perhaps the most beautiful date in the whole history of painting in France." That year marked the culmination of Analytic Cubism in the work of Pablo Picasso and Georges Braque as well as the maturation of Fernand Léger's idiosyncratic Cubist style, as manifested in his lively painting The Smokers. All three artists were inspired by Paul Cézanne in their quest for a means by which to accurately describe three-dimensional objects on a two-dimensional canvas. By breaking the represented figures or items into series of splintered planes and rendering them against—or within—a similarly faceted background, they created an entirely integrated space in which field and object interpenetrate one another. Of the three painters, Léger developed a vocabulary of more precisely delineated forms—his fragmented units are larger, arcs predominate, and color prevails.
In both The Smokers and Nude Model in the Studio the curving, overlapping planes describe the corporeal forms of each painting's subject while articulating an allover, rhythmically patterned surface. The resulting oscillation between volumetric body and dynamic space owes as much to Futurist aesthetics as to Analytic Cubism. By 1913 Léger had pushed his abstracting grammar to its logical extreme in a series of nonobjective paintings entitled Contrast of Forms. Premised on the visual disparity between discrete geometric volumes, the series presents assorted calibrations of cylindrical, cubic, and planar units. As variations on a theme, each composition of alternating solids and voids offers a different play of light and shadow. The Guggenheim's canvas Contrast of Forms accentuates the linear armature and abbreviated modeling of the shifting geometric shapes. With these thoroughly abstract images, Léger's explorations of the Cubist idiom approached those of Robert Delaunay, whose Simultaneous Windows and brilliantly colored circular motifs of 1913 neared complete detachment from empirical reality. For Léger, however, this foray into total nonobjectivity was only temporary, as he would soon revive his penchant for figurative subjects.
Nancy Spector
Free Guggenheim App
Download the app to explore the Guggenheim collection, plan your visit, watch videos, and more.
Send a personalized greeting today!
Guggenheim Books
Visit the Online Store to purchase exhibition catalogues, e-books, and more.