Collection Online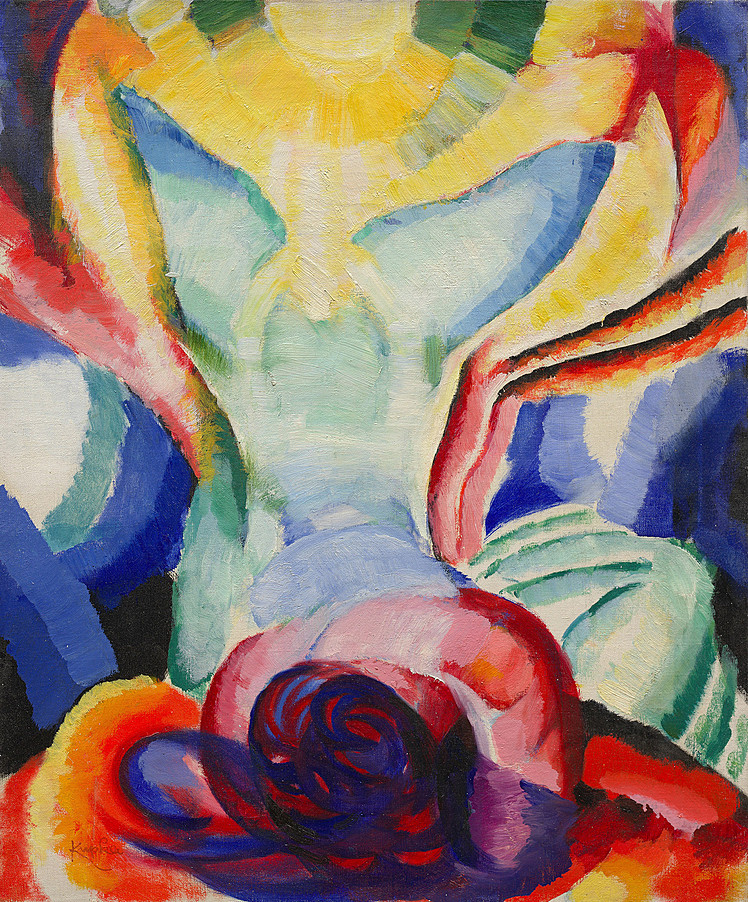 František Kupka
The Colored One (La colorée)
Artist
František Kupka b. 1871, Opočno, Austria-Hungary; d. 1957, Puteaux, France
Title
The Colored One (La colorée)
Date
Medium
Oil on canvas
Dimensions
25 5/8 x 21 1/4 inches (65 x 54 cm)
Credit Line
Solomon R. Guggenheim Museum, New York Gift, Mrs. Andrew P. Fuller, 1966
Accession
66.1810
Copyright
2016 Artists Rights Society (ARS), New York/ADAGP, Paris
Artwork Type
Movement
Although he moved to Paris at a young age, Frantisek Kupka's Bohemian origins, mysticism, and eccentric personality kept him at a distance from the avant-garde circles of the artistic capital. An individualist, he rejected association with any artistic school or trend, but his paintings' aggressive palette and dependence on color as a means of faceting form and conveying meaning show undeniable affinities with Fauvism and the work of Henri Matisse, as well as with Orphism, Robert Delaunay's color-based brand of Cubism. A devoted mystic, Kupka spent his life in search of a transcendental other reality, or "fourth dimension." One of the first non-objective artists, he extended his clairvoyant practice to his art as well, by uniting a metaphysical investigation of the human body and nature with daring color and abstract form.
Theosophy—a synthesis of philosophy, religion, and science—guided Kupka's holistic approach to art. His paintings draw on a variety of sources, including ancient myths, color theory, and contemporary scientific developments. The invention of radiography at the turn of the century was especially significant for Kupka, whose search for an alternative dimension through a kind of painterly X-ray vision is captured in his monumental Planes by Colors, Large Nude. In this work, Kupka rendered the figure of his wife, Eugénie, in vivid shades of purple, green, yellow, and blue, devising an innovative modeling technique based on color, not line or shade, that sections her body into tonal planes in such a way that her "inner form" is made visible. This unveiling of the unseen is crucial, for Kupka believed that it is only through the senses, through physical experience, that we can reach an extrasensory, metaphysical dimension and thereafter achieve an intuitive understanding of the universal scheme underlying existence.
Kupka painted The Colored One ten years after Planes by Colors, Large Nude. By then he had adopted a more boldly abstract mode of figural representation. (He would never abandon subject matter altogether, however, unlike pure abstractionists such as Piet Mondrian.) The Colored One also depicts a female nude, this one lying on her back with legs stretched upward, cradling a radiant yellow sun. Swirling forms outlined in concentrated colors convey the dominant theme in Kupka's work: the organic connections that intertwine human beings with the rest of nature and the cosmos.
Bridget Alsdorf