Collection Online
Browse By
Browse By Museum
Browse By Major Acquisition
Karel Appel
b. 1921, Amsterdam; d. 2006, Zurich
Biography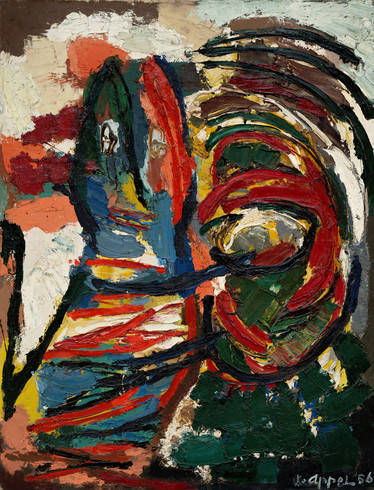 Karel Appel, like Asger Jorn, was a member of the Cobra group, which emphasized material and its spontaneous application. Although the group was short-lived, its concerns have endured in his work. The single standing figures of humans or animals he developed during the 1950s are rendered in a deliberately awkward, naive way, with no attempt at modeling or perspectival illusionism. Thus, the crocodile in this painting is presented as a flat and immobile form, contoured with heavy black lines in the manner of a child's drawing.
Appel's paint handling activates a frenzy of rhythmic movement in The Crying Crocodile Tries to Catch the Sun (1956), despite the static monumentality of the subject. Drips and smears are interspersed with veritable stalactites of brilliant, unmodulated color that buckle, ooze, slash, wither, and thread their way over the surface. The physicality of the impasto and its topographic variety allow it to reflect light and cast shadows dramatically, increasing the emotional intensity of violent color contrasts. In 1956 Appel summarized the genesis of his work: "I never try to make a painting; it is a howl, it is naked, it is like a child, it is a caged tiger. . . . My tube is like a rocket writing its own space."¹
Lucy Flint
Free Guggenheim App
Download the app to explore the Guggenheim collection, plan your visit, watch videos, and more.
Send a personalized greeting today!
Guggenheim Books
Visit the Online Store to purchase exhibition catalogues, e-books, and more.