Collection Online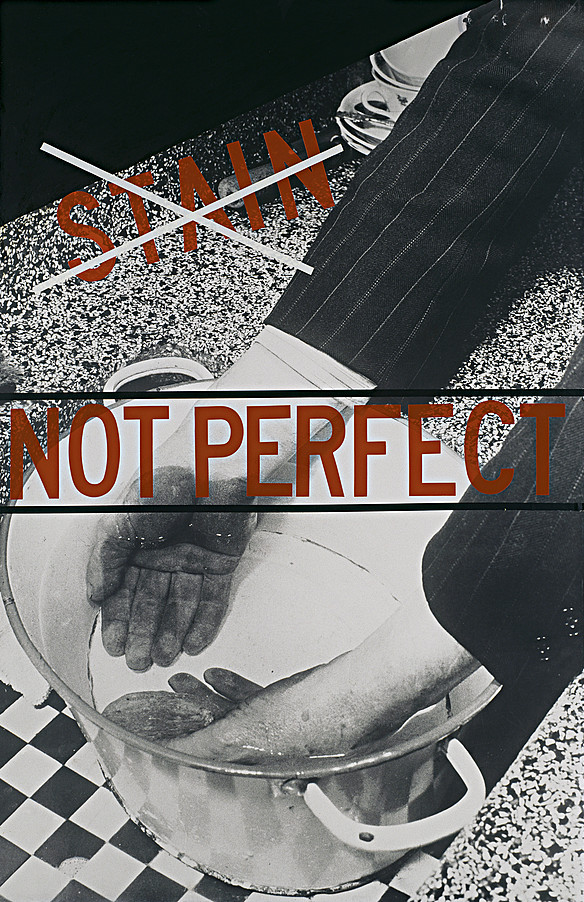 Barbara Kruger
Untitled (Not Perfect)
Artist
Barbara Kruger b. 1945, Newark, New York
Title
Untitled (Not Perfect)
Date
Medium
Gelatin silver print, paint and tape
Dimensions
60 x 40 inches (152.4 x 101.6 cm)
Credit Line
Solomon R. Guggenheim Museum, New York Exxon Corporation Purchase Award, 1981
Accession
81.2809
Copyright
Barbara Kruger
Artwork Type
Movement
Barbara Kruger juxtaposes photographs culled from the mass media with pithy slogans in a vigilantly constructed attack on the ways in which self-identity, desire, and public opinion are manipulated and perpetuated. Her often caustic presentations—ranging from billboards, T-shirts, and posters to the signature red-bordered montages of words and images—play on clichés and cultural stereotypes to underscore and, eventually, undermine the persuasive power of representation. Distinctively feminist in orientation, the work also examines how gender difference is reinforced through media presentation. Traditionally, women have been displayed in film and advertising as objects of desire for the male viewer. The exception occurs when women are targeted by the media as consumers; only then do they become subjects, but merely as patrons of desirable images of themselves.
Kruger brings the issue of gender identification into question through her ambiguous use of the neutral pronouns "I," "you," and "we" in her phrases, such as the following: YOUR GAZE HITS THE SIDE OF MY FACE; YOU MAKE HISTORY WHEN YOU DO BUSINESS; YOU INVEST IN THE DIVINITY OF THE MASTERPEICE; WHEN I HEAR THE WORD CULTURE, I TAKE OUT MY CHECKBOOK. To some extent, Kruger reconfigures the conventional gendered subject/object relationship by bestowing the female voice with authority, but quickly subverts this mere reversal of power by scrambling the identities of speaker and audience.
Untitled (Not Perfect) is an early example of Kruger's mature work; it marks the transitional period between the artist's provocative, embroidered wall hangings and her photographic pieces. It is best understood when examined in concert with another work from 1980, Untitled (Perfect), in which the word "perfect" is written across an image of a woman's discreetly sweatered torso; her hands are clasped as if in prayer. In contrast to this image of chaste propriety—suggestive of the socially condoned behavior often required of women—Not Perfect depicts a pair of soiled male hands resting in a washbasin. The word "stain," albeit crossed out, points to the questionable source of the hands' discoloration. Is it spilled coffee or dirt or blood? Although intentionally indecipherable, the image suggests the sense of recklessness, adventure, and destruction stereotypically associated with the male in our culture.
Nancy Spector