Collection Online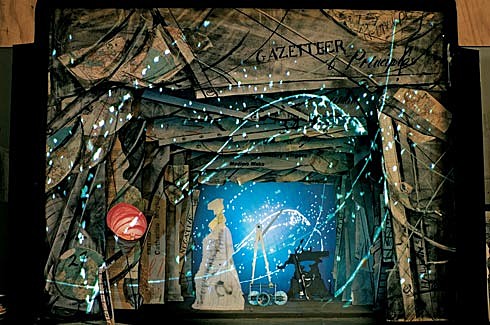 William Kentridge
Black Box / Chambre Noire
Artist
William Kentridge b. 1955, Johannesburg
Title
Black Box / Chambre Noire
Date
Medium
Mixed-media installation with video, 22 min.
Credit Line
Commissioned by Deutsche Bank AG in consultation with the Solomon R. Guggenheim Foundation for the Deutsche Guggenheim, Berlin
Accession
2007.79-80
Artwork Type
South African artist William Kentridge's work reflects a deep engagement with issues of history and memory. Using vigorously reworked charcoal and pastel drawings as the primary basis for his films, he leaves traces of erasure and highly visible pentimenti to suggest the work's process and an ineffaceable past. Kentridge is also known for his theatrical productions for which he crafts layered, multimedia performances combining objects and their cast shadows, puppets and puppeteers, as well as his signature traces and erasures into moving image projections and set designs. The artist's most recent work, Black Box/Chambre Noire, was initially conceived while the artist was preparing to direct a major theatrical production of Mozart's opera The Magic Flute, creating large-scale set designs and exploring actor staging and projections while utilizing a miniature stage maquette. That work on the Enlightenment-themed opera would lead to Black Box/Chambre Noire, which explores the darker implications of that era's philosophical legacy, reflecting the key process of reversal that so often takes center stage in the artist's work.

The development of visual technologies and the history of colonialism intersect in Black Box/Chambre Noire through Kentridge's reflection on the history of the German colonial presence in Africa, particularly the German massacre of the Hereros in Southwest Africa (now Namibia) in 1904, an event considered by some historians to be the first genocide of the 20th century. In 1885 Southwest Africa became a German protectorate. German settlers increasingly encroached upon and expropriated the land of the Hereros. As the tribe's frustration rose, the Hereros, led by their chief Samuel Mahareru, launched a revolt against the ruling Germans. German troops, directed by General Lothar von Trotha, launched a swift counterstrike. Despite objections to General von Trotha's extreme measures by Germans in the colony as well as at home, it wasn't until 1905, after 75 percent of the Herero population was decimated, that the general was removed from command. In reflecting on this historical incident, Kentridge explores the Freudian concept of "Trauerarbeit," or grief work, as a labor without end. This ongoing investigation dovetails with the artist's unrelenting and self-reflexive examination of process and meaning. In creating a work that reveals the motors of representation, Kentridge renders these means transparent, removing the veil behind which selective, subjective memories are crafted into grand narratives of history. Resisting closure, the work problematizes simplistic constructions of history using binaries of past and present, victim and victimizer, spectacle and spectator.