Collection Online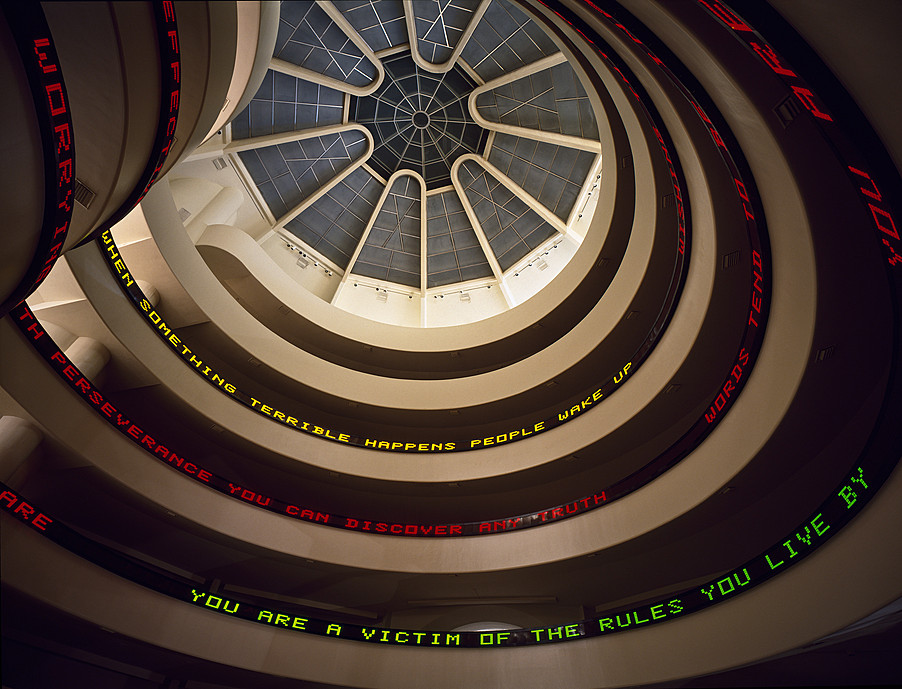 Jenny Holzer
Untitled (Selections from Truisms, Inflammatory Essays, The Living Series, The Survival Series, Under a Rock, Laments, and Child Text)
Artist
Jenny Holzer b. 1950, Gallipolis, Ohio
Title
Untitled (Selections from Truisms, Inflammatory Essays, The Living Series, The Survival Series, Under a Rock, Laments, and Child Text)
Date
Medium
Extended helical tricolor L.E.D. electronic-display signboard
Dimensions
site-specific dimensions
Credit Line
Solomon R. Guggenheim Museum, New York Partial gift of the artist, 1989; Gift, Jay Chiat, 1995; and purchased with funds contributed by the International Director's Council and Executive Members: Eli Broad, Elaine Terner Cooper, Ronnie Heyman, Dakis Joannou, Peter Norton, Inge Rodenstock, and Thomas Walther, 1996
Accession
89.3626,95.4497,96.4499
Copyright
2009 Jenny Holzer/ Artists Rights Society (ARS), New York. Installation view: Jenny Holzer, Solomon R. Guggenheim Museum, New York, December 12, 1989–February 25, 1990. Photo: David Heald
Artwork Type
Movement
Jenny Holzer began the Truisms series in 1977 as a distillation of an erudite reading list from the Whitney Independent Study Program in New York City, where she was a student; by 1979 she had written several hundred one-liners. Beginning with a little knowledge goes a long way and ending with your oldest fears are the worst ones, the Truisms employ a variety of voices and express a wide spectrum of biases and beliefs. If any consistent viewpoint emerges in the edgy, stream-of-consciousness provocations it is that truth is relative and that each viewer must become an active participant in determining what is legitimate and what is not. Since the Truisms, Holzer has used language exclusively and has employed myriad ways to convey her messages. Selections from her Inflammatory Essays series, for example, appeared on unsigned, commercially printed posters, which were wheat-pasted on buildings and walls around Manhattan.
When such Holzer phrases as abuse of power comes as no surprise and money creates taste flashed from the Spectacolor board above Times Square in 1982, it marked her first appropriation of electronic signage. In doing so, she brought her disquieting messages to a new height of subversive social engagement. Her strategy-placing surprising texts where normal signage is expected-gives Holzer direct access to a large public that might not give "art" any consideration, while allowing her to undermine forms of power and control that often go unnoticed.
In Holzer's 1989 retrospective installation at the Guggenheim Museum, blinking messages from her various series, programmed to an insistent but silent beat, raced the length of an L.E.D. display board installed along the winding inner wall of Frank Lloyd Wright's spiral ramp. The museum's rotunda was transformed into a dazzling electronic arcade. In bringing her art from the street to the museum, Holzer focused on an audience that differed markedly from the unsuspecting passerby. The Guggenheim visitors who stood beneath the revolving ribbons of red, green, and yellow texts were more likely to be aware that this installation brought up such issues as the viability of public art, the commodification and consumption of art, and the conflation of the personal and the political—in short, some of the pressing issues of American art in the 1980s.