Collection Online
Browse By
Browse By Museum
Browse By Major Acquisition
Ricci Albenda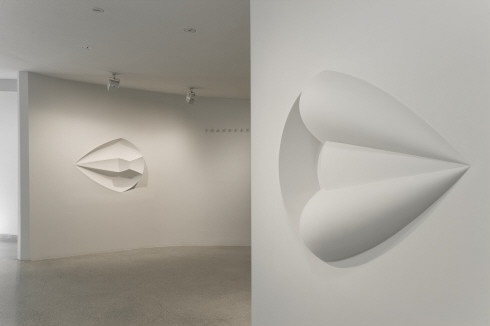 Deeply interested in theoretical models of spatial experience developed in such "non-art" fields as physics and science-fiction, Ricci Albenda (b. 1966, Brooklyn) interrogates three-dimensional space through quiet but subversive interventions that fuse with and transform the structural language of interiors. Transgressing the rigidity of architecture, Albenda's minimal, sensual forms, which he terms "site co-optive" as opposed to site-specific, create eerie environments by carefully upsetting the architectural logic of built space.
Albenda's Portal to Another Dimension (Deborah)/Positive and Portal to Another Dimension (Deborah)/Negative (2001) push and pull against the walls they inhabit, turning architecture that was once solid and uncompromising into an outlandish, fluid spatial zone. Their titles' reference to "another dimension" foregrounds Albenda's utopian fascination with the possibility of other experiences of space beyond traditional Cartesian space, which allows for the depiction and experience of only three dimensions. In endeavoring to add a fourth, Albenda seeks both to challenge and expand human perception.
Kevin Lotery
Free Guggenheim App
Download the app to explore the Guggenheim collection, plan your visit, watch videos, and more.
Send a personalized greeting today!
Guggenheim Books
Visit the Online Store to purchase exhibition catalogues, e-books, and more.