Collection Online
Browse By
Browse By Museum
Browse By Major Acquisition
Matthew Ritchie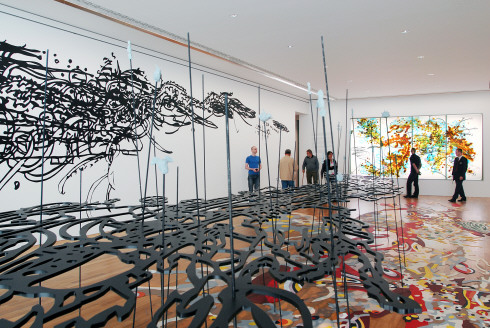 Matthew Ritchie regards artistic creation as analogous to the creation of the universe. Following this logic, Ritchie set out to develop an ongoing, alternative narrative for the genesis of the universe, and in the mid-1990s, he created a basic code that consists of 49 different colors, characters, natural elements, and attributes. These infinitely interchangeable components form the basis for his sprawling, multipart installations, such as The Proposition Player (2003). The title refers to the casino employee who engages unsuspecting customers into a game. In that installation, Ritchie—symbolically assuming the role of proposition player—uses gambling as a metaphor for unpredictable occurrences by giving museumgoers an opportunity to roll the dice and participate in a game of chance. The Hierarchy Problem (2003) consists of four, separately titled parts from The Proposition Player: a graffiti-like wall mural, an image illuminated on a light box, a maplike configuration of rubber cutouts on the floor, and a painting depicting tangled, densely wrought forms. Entitled Snake Eyes, the painting refers to the potential outcome of a roll of the dice, and represents the moment right before the Big Bang in the artist's epic narrative.
Meghan Dailey
Free Guggenheim App
Download the app to explore the Guggenheim collection, plan your visit, watch videos, and more.
Send a personalized greeting today!
Guggenheim Books
Visit the Online Store to purchase exhibition catalogues, e-books, and more.