Collection Online
Browse By
Browse By Museum
Browse By Major Acquisition
Ellsworth Kelly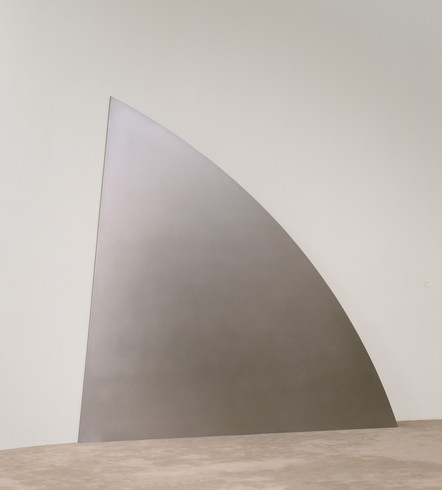 With his keen eye for contour, Ellsworth Kelly extracts visual "fragments" from the surrounding world—the sweeping curve of a Romanesque nave, a crescent moon, a barred window—and then condenses them into elemental colors and shapes. Although relentlessly abstract, his forms are anchored to the legible, to details of architecture or landscape, filtered through the artist's vision. Early in his career, Kelly adopted a philosophy of anti-illusionism that would change the parameters of painting and revise its relationship to sculpture. He began painting monochrome panels in the early 1950s and has been experimenting with this composition (or anticomposition) ever since in single and multipanel formats. With their anonymous, uninflected technique and absence of surface drawing, these pristine "painting-objects" established a new relationship between painting and its architectural context. By defining the structure and shape of each canvas through color—matte, uniform, and without gestural nuance—Kelly eliminated any figure-ground illusion and brought painting into the sculptural realm of objects; the painting itself became the figure, with the wall as its ground.
Blue, Green, Yellow, Orange, Red exemplifies Kelly's lucid, forthright style. Five monochrome panels are arranged in the order of the chromatic spectrum, the primary colors balanced by their intermediary values of green and orange. The concentrated colors are charged by their interaction with each other, and the work's size—monumental, yet at a human scale by virtue of its breakdown into vertical panels—further strengthens its presence. Dark Blue Curve signals Kelly's longtime interest in shaped canvases. It is this focus on peripheral shape identified by color that makes his paintings sculptural, engaging directly with their own forms and the walls around them. The shaped monochromes reinforce the anti-illusionistic project begun with Kelly's rectangular panels; unframed and unmarked save for their color, they are a more emphatic denial of the window-onto-the-world view of the traditional four-sided easel painting. Wright Curve, a steel sculpture designed for permanent installation in the Guggenheim's Peter B. Lewis Theater, is named after the museum's architect, Frank Lloyd Wright. Its affinity with the palette and geometry of the auditorium shows the artist's interest in encouraging site-specific experiences of his painting and sculpture. For Kelly, the transition between the two mediums is fluid: "sculpture for me is something I've brought off the wall."
Bridget Alsdorf
Free Guggenheim App
Download the app to explore the Guggenheim collection, plan your visit, watch videos, and more.
Send a personalized greeting today!
Guggenheim Books
Visit the Online Store to purchase exhibition catalogues, e-books, and more.