Collection Online
Browse By
Browse By Museum
Browse By Major Acquisition
Vasily Kandinsky
b. 1866, Moscow; d. 1944, Neuilly-sur-Seine, France
Biography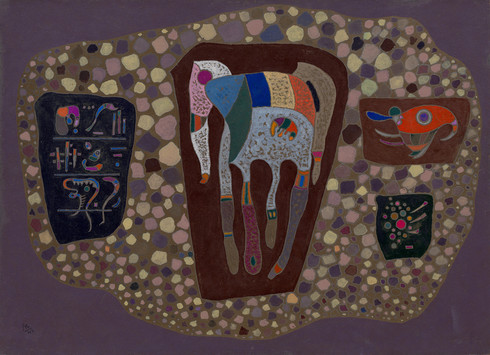 In 1933, the Nazis closed the Bauhaus in Dessau, Germany (where it had been relocated from Weimar), and Vasily Kandinsky settled in Neuilly-sur-Seine, near Paris, where he lived until his death in 1944. During these years, he returned to the themes and iconography of Theosophy, an esoteric philosophy that sought to understand the connections between the universe, the divine, and the individual that had interested the artist before World War I. The central motif of the tentacled, amoeba-like form in Fragments recurs in Kandinsky's late work, and has been interpreted as a Theosophical cypher for greed or a stand-in for the complex emotions felt throughout Europe in the wake of World War II.
Fragments is divided into independent floating elements, which include a miniature picture within a picture. This compositional device first appeared in Kandinsky's work in 1929, and he used it to enforce spatial relationships and to render the illusion of three-dimensionality. In Fragments, four separate amalgamations of colors, forms, and odd shapes are suspended in a field of mosaic-like elements, the smaller pictures more vividly colored than their muted ground. The artist wished the viewer to feel compelled, by virtue of layered planes and seemingly recessive space, to mentally enter his paintings.
Free Guggenheim App
Download the app to explore the Guggenheim collection, plan your visit, watch videos, and more.
Send a personalized greeting today!
Guggenheim Books
Visit the Online Store to purchase exhibition catalogues, e-books, and more.