Collection Online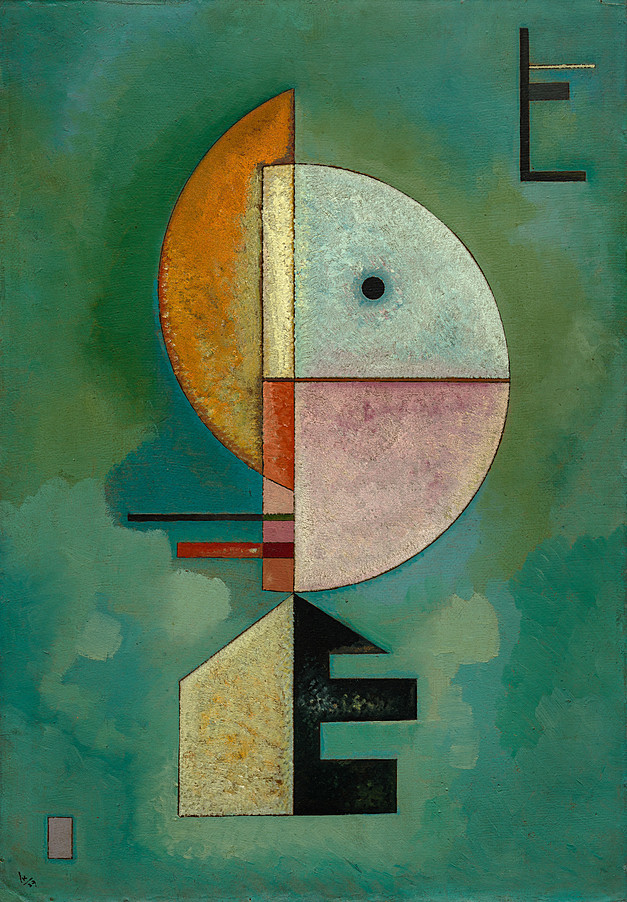 Vasily Kandinsky
Upward (Empor)
Artist
Vasily Kandinsky b. 1866, Moscow; d. 1944, Neuilly-sur-Seine, France
Title
Upward (Empor)
Date
Medium
Oil on cardboard
Dimensions
27 1/2 x 19 1/4 inches (70 x 49 cm)
Credit Line
The Solomon R. Guggenheim Foundation Peggy Guggenheim Collection, Venice, 1976
Accession
76.2553.35
Copyright
2016 Artists Rights Society (ARS), New York/ADAGP, Paris
Artwork Type
Movement
Geometric shapes and sections of circles combine in Upward in a structure suspended in a field of rich turquoise and green. A partial circle rests delicately on a pointed base. Another fragment of a circle glides along its vertical diameter, reaching beyond the circumference of the first form to penetrate the space above it. Vasily Kandinsky achieves an effect of energy rising upward, while anchoring the forms together by balancing them on either side of a continuous vertical line. In a closely related work of the same period, Depressed (Collection Galleria Marescalchi, Bologna), Kandinsky distributes motifs of partial circles horizontally. Here he represses the sense of energy found in Upward both through his composition and a subdued palette.
A linear design in the upper right corner of the present canvas echoes the vertical thrust of the central motif. This configuration resembles the letter E, as does the black cutout shape at the base of the central motif. Another E shape is legible in the upper right corner of a related drawing (Collection Musée National d'Art Moderne, Centre Georges Pompidou, Paris). These forms may at once be independent designs and playful references to the first letter of Empor, the German title of the painting.
The related drawing reveals that the small black circle and the horizontal bars of the central motif, which have the physiognomic character of eye and mouth, were not part of Kandinsky's original design concept and evolved as he worked on the painting. As he wrote in 1929, the year he painted Upward, "I do not choose form consciously; it chooses itself within me."¹ The physiognomic character of Upward indicates Kandinsky's association at the Dessau Bauhaus with fellow Blaue Vier artists Paul Klee and Alexej Jawlensky. Jawlensky showed sixteen abstract heads, a motif that appeared in his work as early as 1918, in an exhibition of the Blaue Vier at the Galerie Ferdinand Möller in Berlin in October 1929. Shown during the month when Upward was completed, these paintings offered Kandinsky the model of large, abstract faces composed of geometric planes of non-naturalistic color and accented by bar-shaped features. However, Kandinsky's working method more closely resembled that of Klee, who began with intuitively chosen forms that gradually suggested counterparts in the natural world, than that of Jawlensky, who began with the model and moved toward abstraction. In particular, the whimsy of the hovering black eye in Upward and the incorporation of a letter as a pictogram with a possible reference to the title of the painting suggest the reverberations of Klee's art.
Elizabeth C. Childs
1. Quoted in Kandinsky: Complete Writings on Art, ed. K. C. Lindsay and P. Vergo, Boston, 1982, vol. 2, p. 740.