Collection Online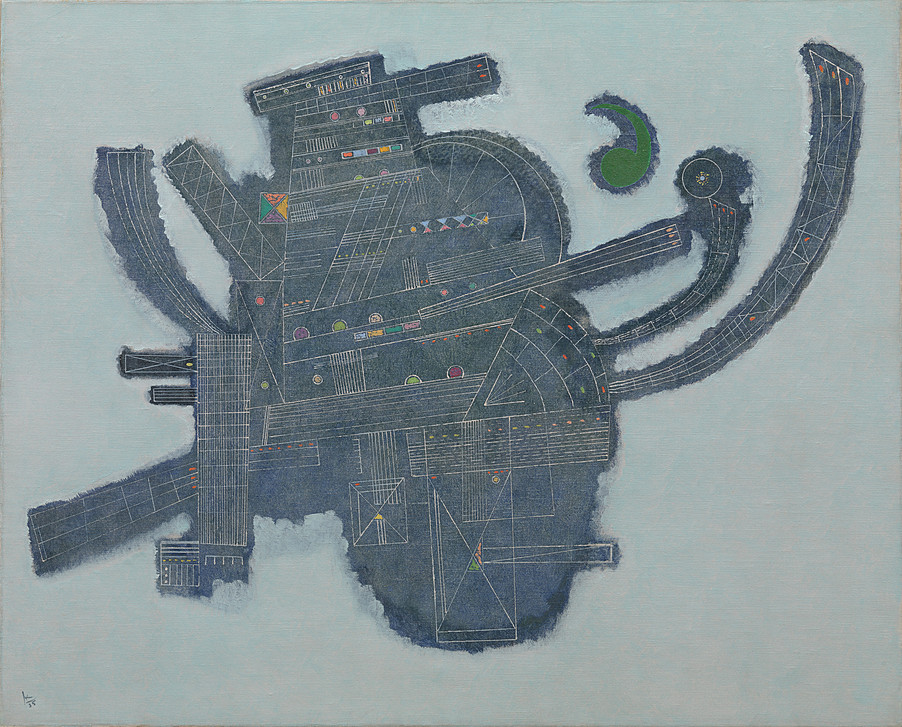 Vasily Kandinsky
Green Accent (Accent vert)
Artist
Vasily Kandinsky b. 1866, Moscow; d. 1944, Neuilly-sur-Seine, France
Title
Green Accent (Accent vert)
Date
Medium
Tempera and oil on canvas
Dimensions
32 x 39 3/8 inches (81.1 x 100.2 cm)
Credit Line
Solomon R. Guggenheim Museum, New York Solomon R. Guggenheim Founding Collection, By gift
Accession
37.340
Copyright
2016 Artists Rights Society (ARS), New York/ADAGP, Paris
Artwork Type
Vasily Kandinsky's eleven years teaching at the Bauhaus in Dessau, Germany (1922–33) enabled him to formalize his compositional principles of color and form. The artist often likened the elements in painting to a visual grammar. Believing that this pictorial language was universal—with visual elements evoking emotional associations—he sought a type of communication that could be directly apprehended by all.
Green Accent demonstrates Kandinsky's commitment to articulating this visual grammar. Other works such as Red Accent (L'Accent rouge, 1943) or Little Accents (Petits Accents, 1940) underline his interest in visual "accents" or punctuation marks. Here, the green form functions like an inverted comma or apostrophe, punctuating the central visual statement. Just as punctuation marks may be employed in writing to indicate a sentence's intonation and tenor, so the green element is used in this painting to lighten and relieve the dark mass below; Kandinsky associated the color with rest and peace.
A musical analogy is also apt in this instance; Kandinsky frequently compared the effects of color with those of sound and strove to achieve the abstract effects of music in his paintings. The artist believed that color encourages a deeper psychological connection with the artwork, awakening "a corresponding physical sensation, which undoubtedly works up the soul."¹ According to Kandinsky, color acts directly upon the viewer's psyche in a musical manner: "Color is the keyboard, the eyes are the hammers, the soul is the piano with many strings. The artist is the hand which plays, touching one key or another, to cause vibrations in the soul." In this context, the color green can be interpreted as a high note countering the heavy bass note below.
Green Accent is evidence of a shift in direction in Kandinsky's later career, when he returned to a combination of angular and biomorphic forms after the strict geometry of his work in the 1920s. The compositional elements in Green Accent are concentrated in a single biomorphic shape floating in the center of the frame. The interior network of architectonic lines contrasts with the curving contours of the dark form and the pronounced brushwork of the white background. Such organic forms appeared frequently in Kandinsky's later works, most likely inspired by French Surrealism and his new interest in the sciences of biology, botany, and zoology. The painting's scratchy, quirky web of white lines also bears comparison to the work of his Bauhaus colleague and friend Paul Klee.
Suzanne Ramljak
1. Vasily Kandinsky, "The Psychological Working of Color" (1911), in Kandinsky, Concerning the Spiritual in Art, trans. M. T. H. Sadler (New York: Dover Publications, 1977), p. 24.
2. Ibid., p. 25.