Collection Online
Browse By
Browse By Museum
Browse By Major Acquisition
Vasily Kandinsky
b. 1866, Moscow; d. 1944, Neuilly-sur-Seine, France
Biography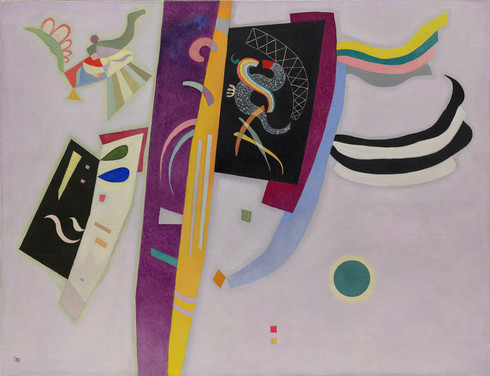 As in many of Vasily Kandinsky's canvases—including Various Parts (Paries diverses, 1940), Various Actions (Actions varies, 1941), and Red Accent (L'Accent rouge, 1943)— the composition of Violet-Orange is divided into independent floating elements, one of which includes a miniature picture within a picture. This structural strategy first appeared in Kandinsky's work in 1929; in Violet-Orange, the black, vertical rectangle in the upper center appears as a separate entity, containing its own constellation of moving parts: a falling ladder, a curving rainbow, sashes of color, and other forms.
Kandinsky employed this compositional device to enforce spatial relationships and enhance the illusion of three-dimensionality within his canvases. He wished the viewer to feel compelled, by virtue of layered planes and seemingly recessive space, to mentally enter his paintings.
Nancy Spector
Free Guggenheim App
Download the app to explore the Guggenheim collection, plan your visit, watch videos, and more.
Send a personalized greeting today!
Guggenheim Books
Visit the Online Store to purchase exhibition catalogues, e-books, and more.