Collection Online
Browse By
Browse By Museum
Browse By Major Acquisition
Vasily Kandinsky
b. 1866, Moscow; d. 1944, Neuilly-sur-Seine, France
Biography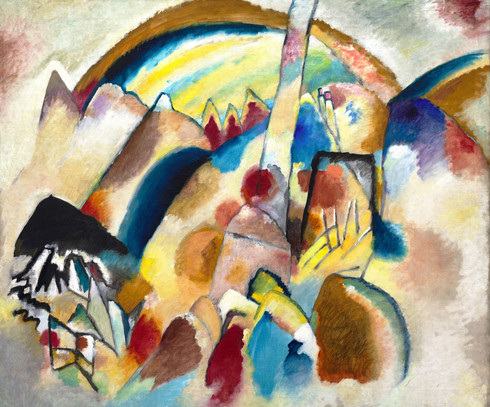 From 1908 Vasily Kandinsky often stayed in the town of Murnau in upper Bavaria, where his companion Gabriele Münter bought a house in 1909. The landscapes inspired by these Alpine surroundings developed from the flattened, densely colored views of 1908 to the luminous, antimaterial dream visions of 1913, such as this canvas and the closely related Landscape with Red Spots, No. 1 (Collection Museum Folkwang, Essen).
The motif of the church in a landscape recurs often in Kandinsky's paintings of 1908–13. In examples of 1908–09 the particular design of the Murnau church makes identification possible, though the local topography may not be accurately reflected. By 1911 there is little specifying detail, and the tower, which serves to divide the composition, has taken on a generalized, columnar appearance. In Landscape with Red Spots, No. 2 the tower is replaced by a mysterious elongated vertical form that seems to continue beyond the canvas edge into another realm. Like the nineteenth-century German Romantic painters, Kandinsky presents the landscape as an exalted, spiritualized vision. He achieves the sublimity of the image by freeing color from its descriptive function to reveal its latent expressive content. The chromatic emphasis is on the primary colors, applied thinly over a white ground. The focal point, the red spot that inspires the picture's title, bears out Kandinsky's appraisal of red as an expanding color that pulses forward toward the viewer, in contrast to cooler colors, particularly blue, that recede. Kandinsky indicates the naturalistic content of subject matter with abbreviated signs, emphasizing the purely pictorial aspects of color and form, and thus is able to dematerialize the objective world.
Lucy Flint
Free Guggenheim App
Download the app to explore the Guggenheim collection, plan your visit, watch videos, and more.
Send a personalized greeting today!
Guggenheim Books
Visit the Online Store to purchase exhibition catalogues, e-books, and more.