Collection Online
Browse By
Browse By Museum
Browse By Major Acquisition
Vasily Kandinsky
b. 1866, Moscow; d. 1944, Neuilly-sur-Seine, France
Biography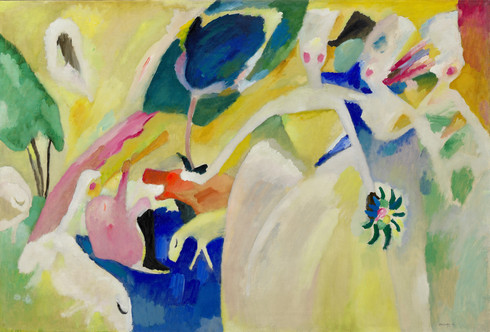 Pastorale (1911) illustrates the early stages of Vasily Kandinsky's progression toward abstraction. In this captivating rural scene, figures and landscape remain readily identifiable, but color and rhythm dominate the composition. Weary of the narrative weight that fully fledged figures would hold on the painting, Kandinsky purposely left the characters of Pastorale in a blurry state. By privileging color, form, and movement over direct representation, the artist was aiming for an enhanced encounter with the work, one prompting a profound and spiritual response in the viewer. The year 1911 was important for Kandinsky, as he founded with Franz Marc the group Der Blaue Reiter (The Blue Rider) in Munich, and his canonical treatise Über das Geistige in der Kunst. Insbesondere in der Malerei (On the Spiritual in Art: And Painting in Particular) was published.
Free Guggenheim App
Download the app to explore the Guggenheim collection, plan your visit, watch videos, and more.
Send a personalized greeting today!
Guggenheim Books
Visit the Online Store to purchase exhibition catalogues, e-books, and more.