Collection Online
Browse By
Browse By Museum
Browse By Major Acquisition
Vasily Kandinsky
b. 1866, Moscow; d. 1944, Neuilly-sur-Seine, France
Biography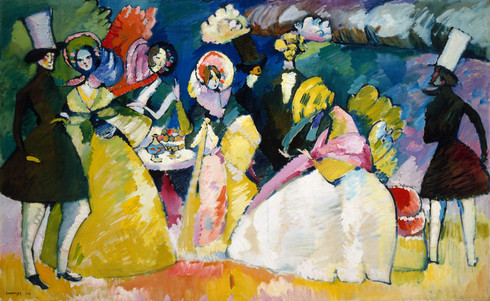 Group in Crinolines is a transitional work in Vasily Kandinsky's career, indicating a shift from his early fairy-tale pictures to highly abstracted images. Though painted in Munich two years after Kandinsky lived and worked in Paris from 1906 to 1907, this canvas attests to his appreciation of modern French art. The plein-air social gathering of men and women dressed in Biedermeier fashion is reminiscent of Manet's portrait of leisure life, Music in the Tuileries Gardens (1862). Kandinsky admired Manet's work for what he construed to be an emphasis on painting itself rather than a mimetic translation of the empirical world. While the content of Group in Crinolines may resemble that of 19th-century Impressionist scenes, its brilliant, radical color scheme is clearly Fauvist in inspiration. During his stay in Paris, Kandinsky exhibited at the Salon d'Automne of 1906 in which Matisse and the Fauves were prominently featured. He pronounced Matisse to be "one of the greatest of the modern French painters" in his 1911 treatise On the Spiritual in Art.¹
Kandinsky painted a second version of Group in Crinolines, which was included in the first exhibition of the Neue Künstlervereinigung München in 1909. In 1911 Kandinsky painted Pastorale (Solomon R. Guggenheim Museum, New York), a canvas similar in theme to, but formally more abstract than, Group in Crinolines. Kandinsky recast the semirealistic, though idyllic, image of formally attired people of Group of Crinolines into a highly stylized utopian landscape in Pastorale.
Nancy Spector
1. Kenneth C. Lindsay and Peter Vergo, eds. Kandinsky: Complete Writings on Art, vol. 1 (Boston: J. K. Hall, 1982), p. 151.
Free Guggenheim App
Download the app to explore the Guggenheim collection, plan your visit, watch videos, and more.
Send a personalized greeting today!
Guggenheim Books
Visit the Online Store to purchase exhibition catalogues, e-books, and more.